The Holiday are such a great time to gather with family and watch a great movie.  This December Disney is releasing two movies on Blu-ray – one, Ironman & Hulk: Heroes United brings two fanatastic Marvel Heroes together united in their efforts to have good win over evil and the second, a family favourite, Mary Poppins is released in a special 50th Anniversary Blu-Ray. These titles are Disney movies for the whole family.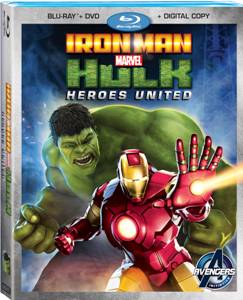 From the Studio:
Marvel makes history again with one of the greatest Heroic team ups in the universe. Hulk's brute strength and Tony Stark's high-tech intellect come together to create a powerful duo necessary to face off against one of the most dangerous enemies.
When "Zzzax," a seemingly invincible, energy devouring monster threatens to destroy the planet, these two Avengers are mankind's only hope. Alone, neither can defeat the awesome power of Zzzax. As a team, they just might have a chance – if they can find a way to work together without smashing heads before time runs out!
Packed with explosive action, loaded with bonus features and presented in groundbreaking Marvel CG Animation, Iron Man & Hulk: Heroes United is a must-own movie event that will blow you away!
My Review:
My boys were absolutely blown away by this movie, they were captivated by the action, the animation and the larger than life powers of Iron Man & Hulk.  The movie is a fun, entertaining and perfect for any comic fan.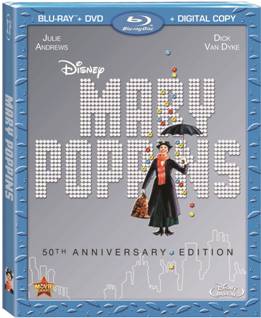 From the Studio:
Releasing from the Disney Vault in celebration of its 50th Anniversary, creative visionary Walt Disney's classic shines for the first time on Blu-ray. Starring Dick Van Dyke and Julie Andrews in her Academy-Award winning role, and featuring iconic toe-tapping songs including "A Spoonful of Sugar" and "Supercalifragilisticexpialidocious," Mary Poppins is a movie experience your family will enjoy again and again. An all-new digital restoration adds even more magic – helping bring the award-winning songs and amazing picture to life like never before. Share the music; share the magic; share the joy of Mary Poppins this holiday on Blu-ray Combo Pack & HD Digital December 10.
My Review:
With Saving Mr. Banks about to hit the big screen, Disney has revamped and restored a classic that I loved from my childhood.  The Blu-ray has impeccable quality and I found myself signing along to all of my favourites.  Hot Chocolate in hand I was transported back to memories of watching Mary Poppins with my mom.  A wonderful movie brought back and revitalized.  A perfect gift for Mary Poppins fans and a new generation waiting to witness her magic.