I'm a snacker.  I've always loved having something in the afternoon to tide me over until dinner.  Now that I have kids I find that snacks are critical!  Not just to give me some extra energy but to fill their little tummies.  For me, the most important thing is to pack my bags full of nutritious snacks that my boys will love and I'm not concern that I am feeding them overly processed food.
A friend introduced me to the idea of Snackbox and I'm in love!  Snackbox is a monthly subscription service of wonderfully nutritious and tasty foods perfect for my purse, the boys' lunches and afternoon snacks.

Snackbox is a monthly subscription service, based in Vancouver, BC that ships all over Canada via Canada Post. Snackbox members receive a curated selection of premium, natural, and most of all, delicious, snacks. Our trained chef and holistic nutritionist, Laura Mar, carefully chooses each month's product for Snackbox. The products we select are always natural, and made with ingredients you can pronounce. We want to help our members easily discover new and healthier alternative to the typical junk foods. There are three subscriptions for our members to choose from. Prices start from $24 per month for a six-month subscription, $27 per month for a three-month subscription, and $33 per month for a monthly subscription (plus $6.95 shipping and applicable taxes).
I was sent the December box to enjoy – here is what I received in my Snackbox: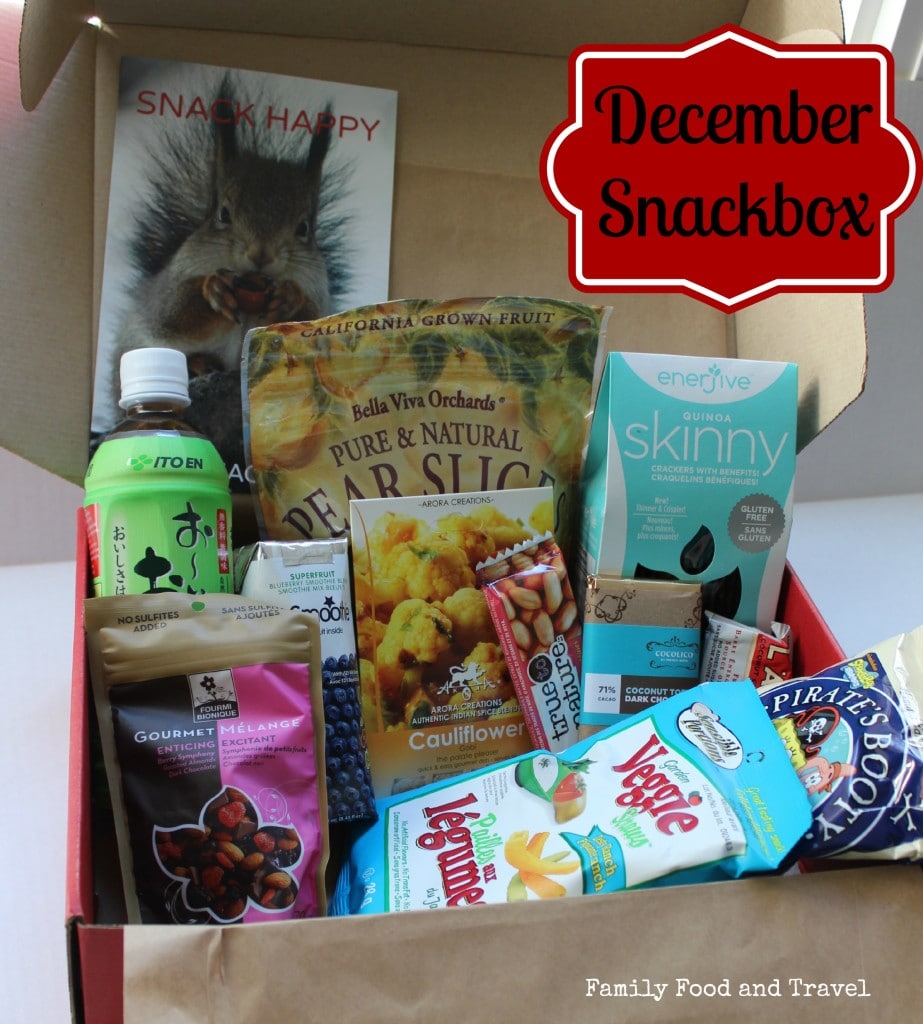 My family and I loved this box.  The Veggie Straws and Pirate Booty Cheese Puffs were snatched up by my boys the moment I opened the box, My husband loved the Fourmi Fruit and Nut Medley and my favourite was the Bella Viva Orchards Pear Slices they were absolutely delicious!  Overall, I was impressed with the variety of drinks, snacks and sweets.  I was able to spread out the entire box for a couple of weeks of healthy snacking and found new products that I will definitely look for at my local health food store.  I loved the box so much that I've ordered it for our family and purchased it as a gift for another family for Christmas.
Interested in subscribing?
You can save $15 from now until December 31, 2013 with this coupon code FamilyFT…happy snacking!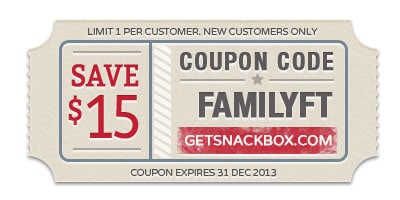 Like Snackbox on Facebook
Enter to win a Snackbox
One lucky Canadian Family Food and Travel reader will win a Snackbox delivered to your door!  Contest is open to residents of Canada and ends December 26, 2013.
*Disclosure:  I received this product to facilitate my review.  All opinions are as always my own.