Nutrition for myself and my family is very important to me.  Like many families we like to indulge in sweets and baked goods but we balance that out with a variety of fruits, vegetables and lean proteins.  My boys love almost all foods and regularly ask for broccoli as a snack (I sure hope it continues!).
I also know that nutrition and immunity have been essential to kids' overall health and wellness. As a busy mom, it's so important to provide your kids with balanced snacks and meals, and keeping up their immune function can be a challenge (especially when they are at daycare/school).
A new survey commissioned by Bayer Healthcare Consumer Care shows that –
67 per cent of Canadian moms with kids 10 and under say healthy meals for their kids are often compromised because of busy and hectic schedules;
55 per cent of moms agreed their kids are getting enough vitamin A, while only 41 per cent said their kids are getting enough zinc.  Both of these help to maintain healthy immune function;
Almost two thirds of moms agreed that they have added other ingredients to vegetables to make them taste better.
As a kid I fondly remember taking my Flintstones Vitamins.  My mom had to put them on a high shelf so I couldn't reach them otherwise I would have probably ate the whole box!  I love the taste, the shapes the way they reminded me of the cartoon (which I loved).  For my boys, they aren't familiar with the cartoon, but they love anything with a gummy consistency.  Whether it be fruit gummies or vitamins they gobble them up!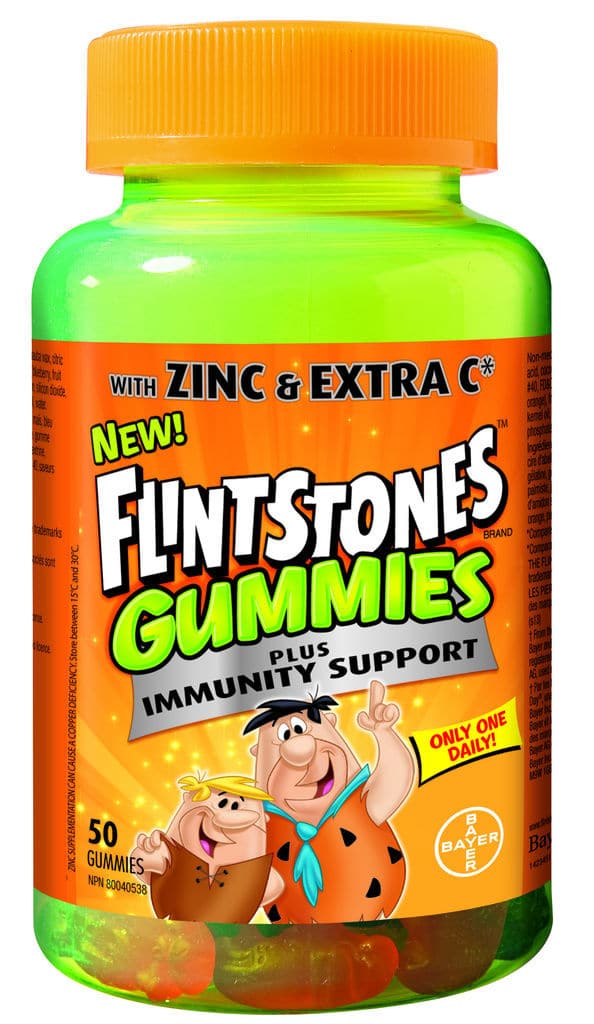 What are FLINTSTONES Gummies Plus Immunity Support?
FLINTSTONES Gummies Plus Immunity Support is a complete multivitamin with extra Vitamin C (Compared to FLINTSTONE Gummies) plus Zinc. The gummies come in blueberry, orange and fruit punch flavours in fun FLINTSTONES character shapes.  FLINTSTONES Gummies Plus Immunity Support is a vitamin and mineral supplement that, when taken once daily, helps maintain a child's good health. Extra Vitamin C** is an antioxidant for the maintenance of good health, while Zinc helps to maintain immune function.
When combined with a healthy diet and exercise, FLINTSTONES Gummies Plus Immunity Support is a factor in the maintenance of a child's overall good health. Giving your child FLINTSTONES Gummies Plus Immunity Support once daily helps the body metabolize carbohydrates, fats and proteins, while also helping maintain healthy skin and aiding in tissue formation.
Suitable for children aged 2+, always under the supervision of an adult.  Available at select drug and mass merchant stores across Canada priced approximately $12.99 for 50ct.
Healthy Activities and Healthy Meals Giveaway
One lucky Family Food and Travel reader will get the opportunity to step back in time to the Stone Age and learn about the dinosaurs who roamed the earth at the Royal Ontario Museum. Make sure the family is well fueled by making healthy and delicious smoothies as morning or afternoon treat.
ROM  Adult Admission (18-64) X 2 + Child Admission (4-14) X 2  + $25 food delivery from Grocery Gateway for healthy smoothie ingredients (recipes to be provided)
Open to residents of the GTA only.