Last week our family had the wonderful opportunity to go to Medieval Times and experience a night of chivalry, gallantry and fantastic family fun.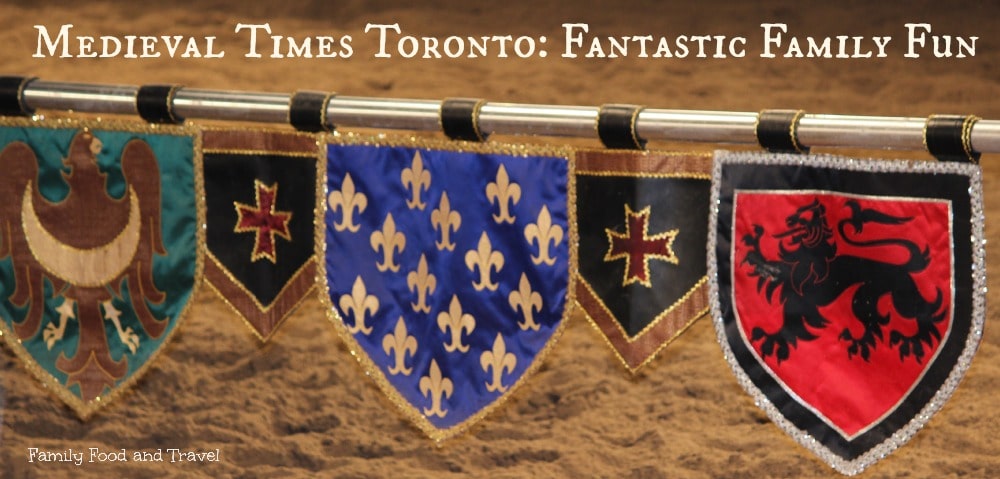 Medieval Times is set in Toronto Castle at Exhibition Place, an easy location to get to with dedicated parking right beside the venue (cost $11). The outside of Medieval Times is covered with amazing photographs of the horses, the jousting and the show – the boys were so excited to see the pictures outside they didn't want to go in!
Once inside you are greeted with a coloured crown designating you to a knight and team.  I loved this part of the show – the competition between knights and teams makes for a fun and spirited atmosphere.
While you wait to enter the main arena/dining area you are entertained by the falconer and various knights.  There are TONS of things to buy to help dress up your little knights and princesses and a viewing area into the horse stables.  One of my boys was a bit overwhelmed by all the noise in the waiting hall, but once we were let in and in our seats he was so excited to be a part of the action!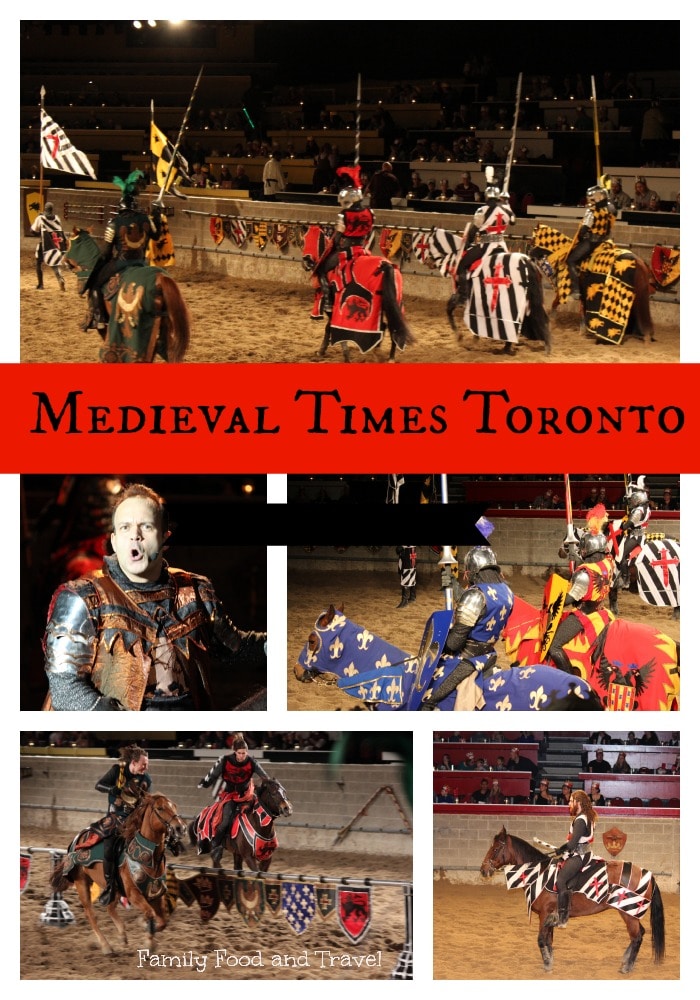 The show was spectacular!  The horses were stunning and the tricks, fight scenes and jousting had my boys clapping, cheering and on the edge of their seats.  The show is perfect for kids (and adults) of any age.  I was so impressed with the range of kids at the show – from small infants to teenagers and all were having a great time.  My boys (3.5 years old) love every minute of it.  When I asked their favourite part – one said "the flying birds" and the other said the "white horses." Even days later they are still talking about the magical place we went to with the knights and horses.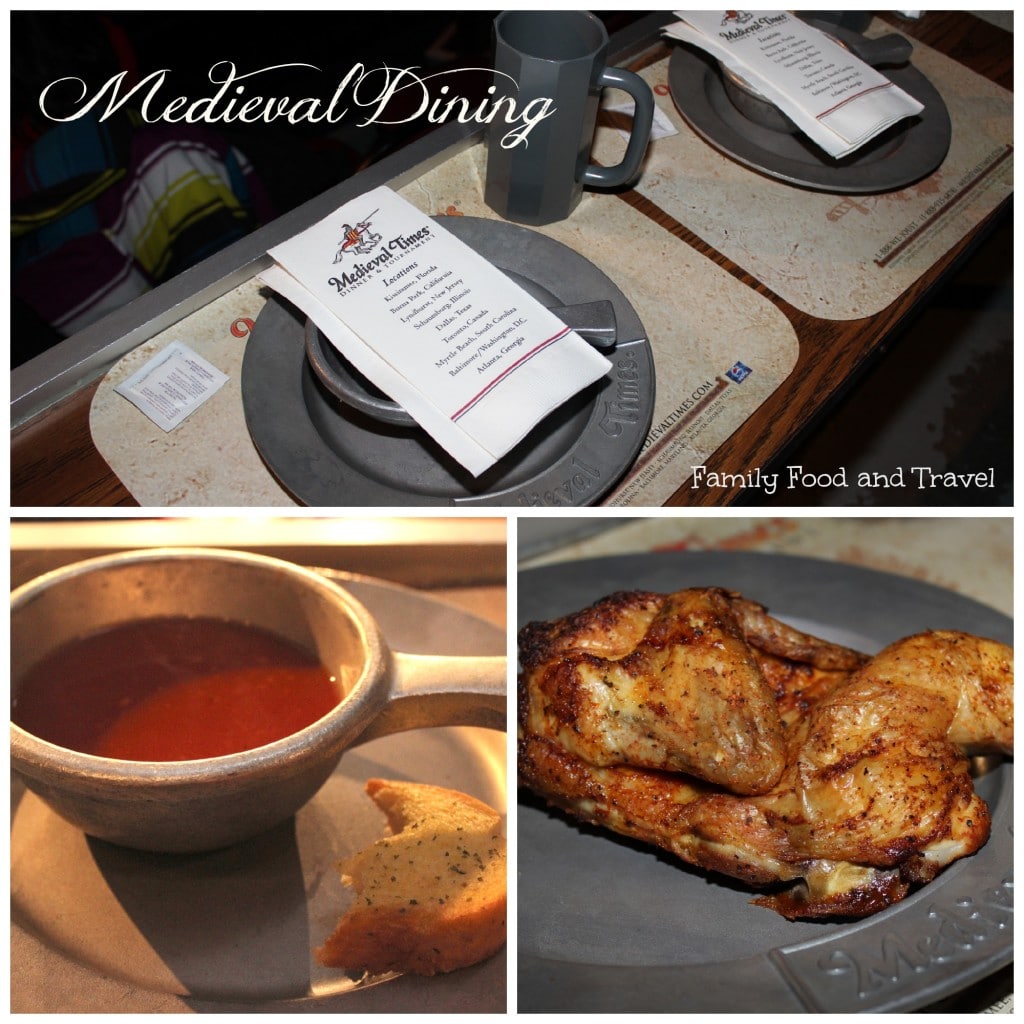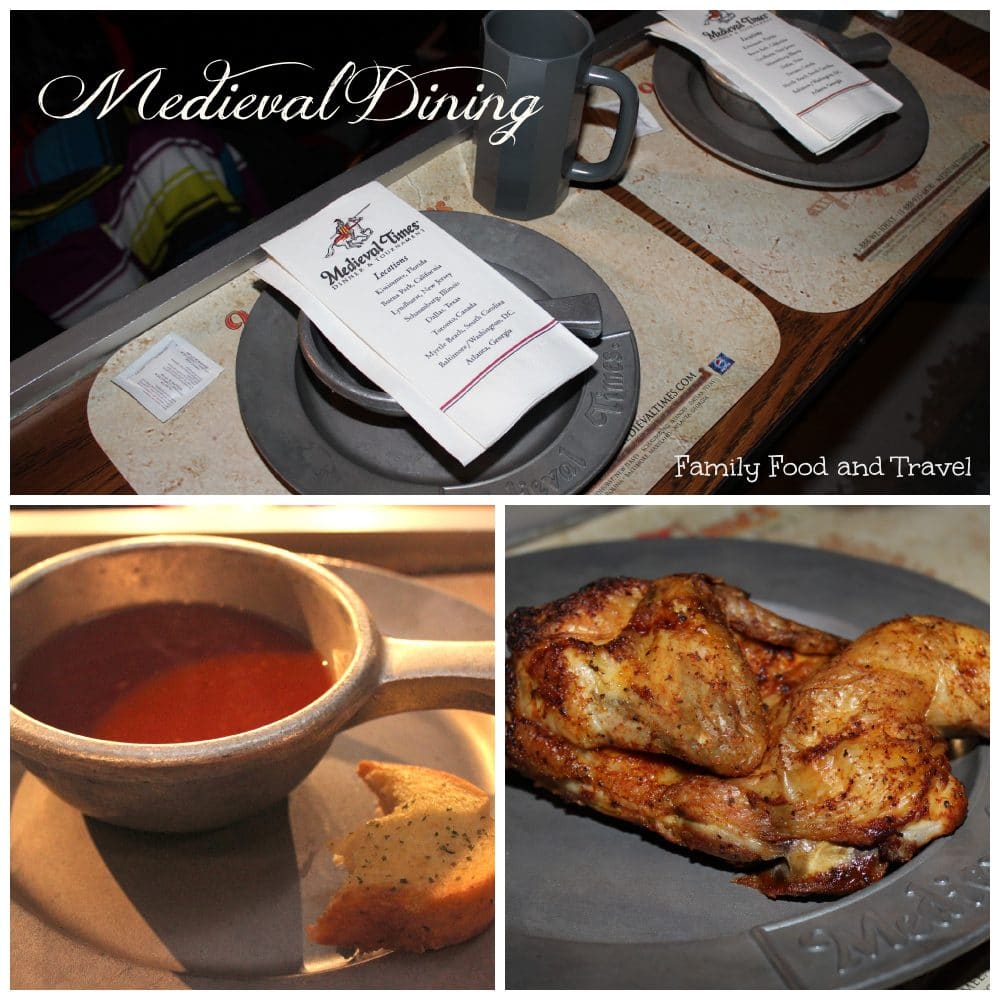 The food was delicious!  The meal starts with Tomato Bisque and Garlic Bread, the main is a roast half chicken with potato and ribs, and the dessert an apple pastry. Everyone in our family loved it all, and getting a chance to eat with your hands and abandon 'proper' table manners was not only fun but made the event a lot different from regular meals.  The meals are generously portioned.  I was surprised that one of my boys finished every morsel of his dinner, he must have a hollow leg! For those without big appetites take home containers are available.  I was really pleased that my food allergies were taken seriously by Medieval Times.  I was able to view a menu ahead of time and modifications are available.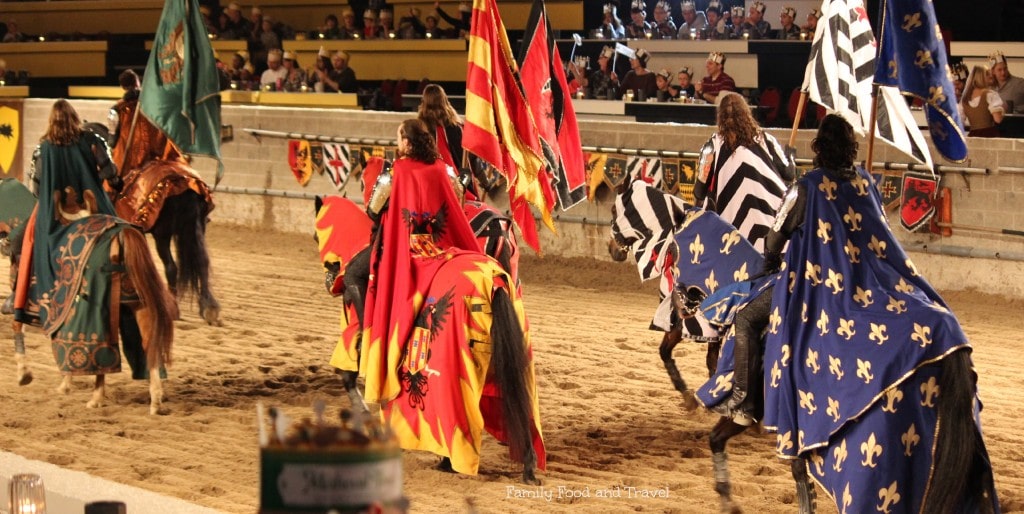 Our family's trip to Medieval Times was a wonderful experience filled with wonderful sights, sounds and tastes.  It was a fun adventure for our family and something that my boys will not soon forget.  Medieval Times truly is fantastic family fun!
Special Promo Code
Looking to book tickets for your family?  Use this promo code BLOG39 when you book online now through January 31st, 2014. This coupon code, is an amazing saving – with the promo, adult admission is $39.95 and kids 12-years old and under are $29.95!  That's a $24 savings for adults and $11 savings on child tickets.
This offer is valid on all shows until January 31st, 2013 (excluding the 9pm New Year's Eve show).  This rate does not include axes, fees, seating upgrades gratuities and cannot be combined with other promotional offers.
*Disclosure: I am Medieval Times Brand Ambassador and have received compensation for this post. However, all opinions expressed on this blog are 100% my own.