If you think Yoga is only about meditation and chanting, think again – YAS Fitness Centres promotes a totally different type of yoga. Kimberly Fowler owner and creator of YAS Fitness Centres that combine Yoga for Athletes with Spinning brings a whole new perspective.  Her tag line "No Chanting, No Granola, No Sanskrit" made her an outcast in the Yoga field, but a favourite with her clients.
After successful studios came yoga apparel, gear, books and DVDs.  Check out this fabulous skull Yoga mat:

One lucky Family Food and Travel reader will win this prize pack:  Skull Yoga Mat, The No Om Zone DVD and an autographed copy of Kimberly Fowler's book The No Om Zone – valued at over $50!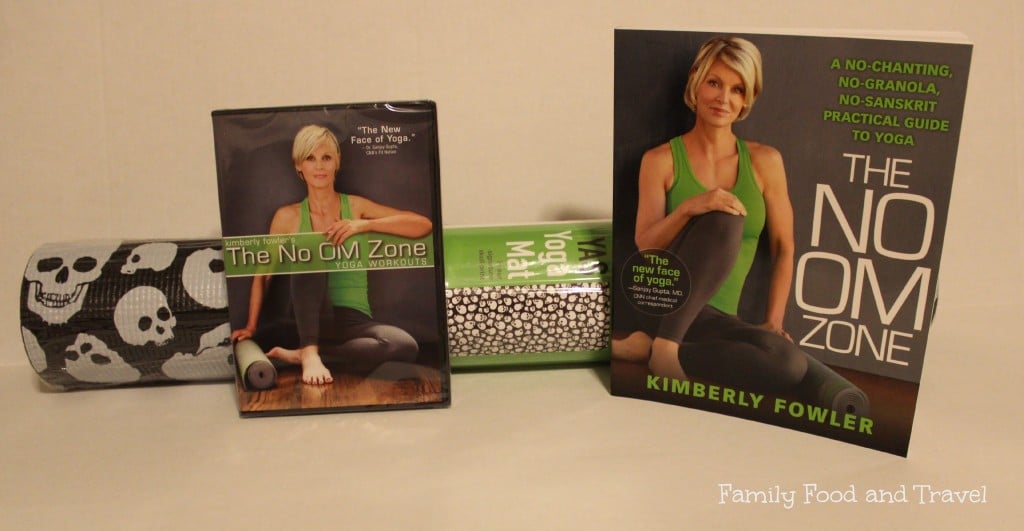 To find out more, watch this video of Kimberly Fowler and the Yas Yoga Brand.
I really enjoyed reading Kimberly Fowler's book.  Her approach on Yoga is refreshing and different and will absolutely appeal to those who are not a fan of what many describe as 'traditional yoga'.  While I don't think I will be doing my downward dog on a skull mat anytime soon, every single person I showed it to was asking to have it.  YAS yoga and Kimberly Fowler have a big following I really enjoyed her writing about yoga and it's importance for overall health and well being.
The No OM Zone offers a range of yoga workouts as well as excellent information on:

The benefits of yoga, from improved posture to increased energy and lower stress
Injury prevention and rehabilitation through yoga
Types of yoga and yoga styles, from Kundalini to Power Yoga, and which one is right for you
Breath work and meditation
Poses that target specific muscle groups and areas of the body
Sports-related benefits and sports-specific poses to help you excel at your favourite event or pastime

Designed to get you off the couch and onto the mat, The No OM Zone can help you enjoy the amazing, lifelong benefits of the ancient practice.