This year is going to be a special year at our home.  Now that our twins are 3.5 years old I know that they will be more excited than ever before.  Traditions we began as a family will become more important and easier for them to understand.  I cannot wait to experience all the joys of the holiday season with them.  And the food!  So many fabulous recipes to make and share with friends and family.
Kids everywhere are making their lists, picking out toys in flyers and online, and getting ready to tell Santa about what they hope will be under their tree this year.
This year Family Food and Travel is excited to unveil our Holiday Gift Guide next week.
Our guide will feature items for Kids, Women, Men, Foodies and Travellers.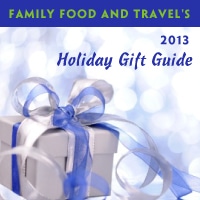 Interested in being a part of our gift guide?  Please read our submission information.
Our gift guide will begin rolling out our favourite items for this year's holiday giving.  Look for fabulous products, features and giveaways beginning next week.