Experience big dreams and even bigger laughs when TURBO arrives on Digital HD™ on October 22 and on Blu-ray 3D™, Blu-ray™ and DVD on November 12.  Taking the fun-filled spirited adventure of the film, the Blu-ray™ and DVD are packaged with a TURBO pullback toy racer, while supplies last, making it a great gift for the holidays!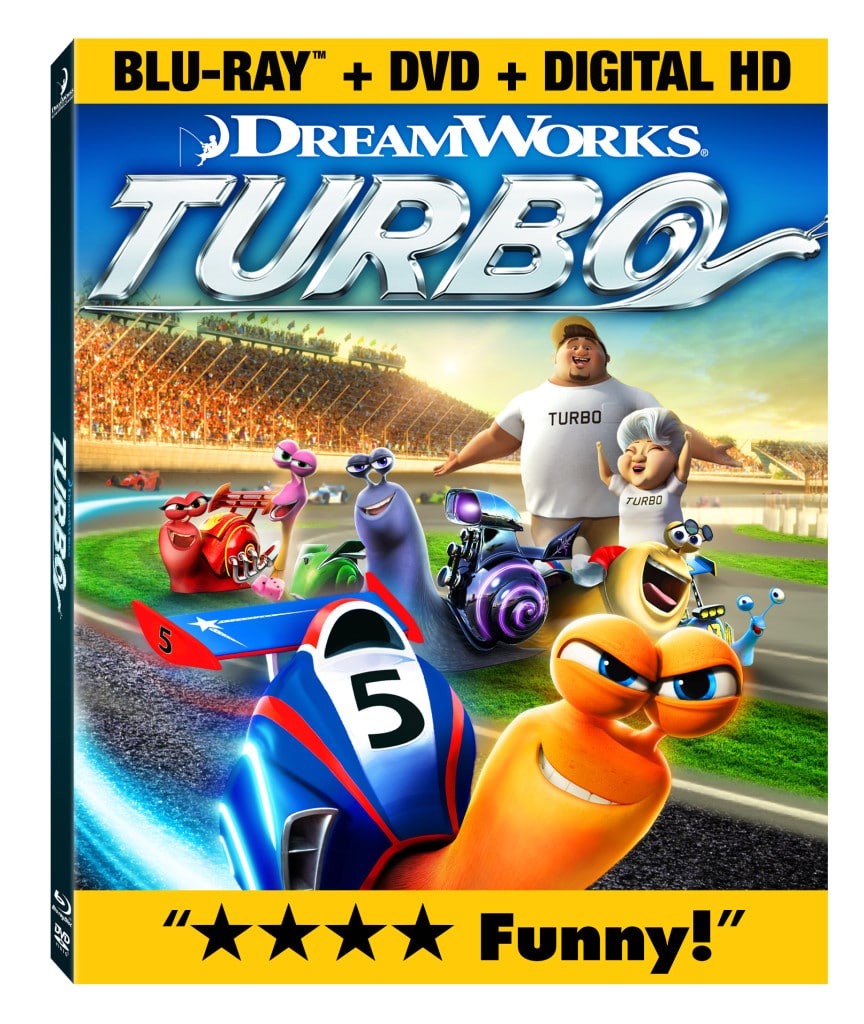 DreamWorks Animation's Turbo Blu-ray™ Deluxe Edition
The TURBO Blu-ray + DVD + Digital Copy Deluxe Edition includes an extra holiday gift, the TURBO pullback racer toy for a limited time while supplies last.
Blu-ray Exclusive Special Features:
Smoove Move's Music Maker – Watch action-packed music videos featuring songs from the film
Meet Tito – Director David Soren provides an introduction for a scene that was deleted from the film.

The Race – Director David Soren provides an introduction for a storyboard sequence that eventually made it into the film.  Viewers can even see picture-in-picture comparison to the final cut.
Shell Creator – Create your own shell from select-able parts

Additional Special Features:

Champions Corner – Host Paul Page interviews Turbo one-on-one to hear all about his racing techniques and inspirations!
Be An Artist! – Dave Burgess, Head of Character Animation on the film, shows the audience how to draw: Turbo, Whiplash, Skidmark, Burn, Smooth Move, White Shadow, Chet and Customizable Racers. 
Team Turbo:  Tricked Out – See Turbo and all the rest of the snail crew in a break- down of the cool components that make up each of their shells.
TURBO F.A.S.T Trailer from TV show – First look at upcoming new TV show this December
Holiday Favorites – Sneak Peeks
World of DreamWorks Animation – Music videos from your favourite DreamWorks Animation feature films

DreamWorks Animation's Turbo DVD

The single disc DVD includes an extra holiday gift, the TURBO pullback racer toy for a limited time while supplies last plus the following:

Special Features: 

Champions Corner – Host Paul Page interviews Turbo one-on-one to hear all about his racing techniques and inspirations!
Be An Artist! – Dave Burgess, Head of Character Animation on the film, shows the audience how to draw: Garden Turbo and Racing Turbo. 
Team Turbo:  Tricked Out – See Turbo and all the rest of the snail crew in a break- down of the cool components that make up each of their shells.
World of DreamWorks Animation
Previews
Turbo Giveaway – Blu Ray Combo Pack