Like most people I long for comfort food on cold days.  Whether it is rain or snow I love a dinner made of homemade soup accompanied by fresh bread or buns. One of our family favourites is Cheddar Cheese Scones, a recipe by one of my favourite Canadian Chefs, Chef Michael Smith.  These scones are easy, flaky and delicious.

Chef Michael Smith's Cheddar Cheese Scones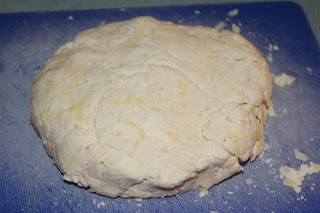 Dough shaped and ready to be cut
Ingredients
(slightly modified from Chef Michael Smith's recipe)
2 cups flour
1 tablespoon baking powder
1 teaspoon salt
1.5 cups grated cheddar cheese
1 1/2 cups heavy whipping cream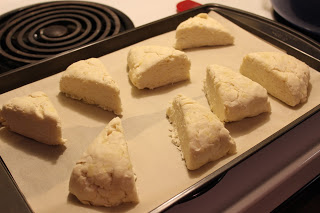 Scones on the tray ready to be cooked (I chose a thicker scone than the recipe)
Directions
Preheat oven to 450 degrees Celsius.
In a medium-sized bowl, whisk together the flour, baking powder and salt.
Add cheddar and stir.
Add cream and stir until the mixture just comes together.
Knead the dough a few times.
Pat the dough into a flat round about one inch thick and cut into eight wedges.
Place them on a baking sheet and bake for 12 to 15 minutes, until the tops are golden brown.
The recipe can be found on The Food Network.