I am so excited to see this movie!  The trailer is so funny and the concept of someone being responsible for creating THAT many children (533)is crazy and hilarious.  And Vince Vaughan, everyone loves Vince Vaughan :)
I am excited to be giving away two advance screening tickets to Delivery Man in Toronto – contest ends November 10, 2013.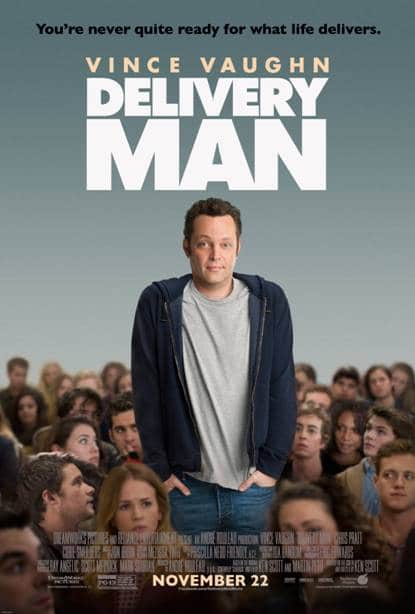 From the studio:
DreamWorks Pictures' "Delivery Man" stars Vince Vaughn as affable underachiever David Wozniak, whose anonymous donations to a fertility clinic 20 years earlier resulted in 533 children. David must now embark on a journey that leads him to discover not only his true self but also the father that he could become.
A DreamWorks Pictures and Reliance Entertainment presentation, the film is written for the screen and directed by Ken Scott, based on "Starbuck," the original screenplay written by Ken Scott and Martin Petit, and also stars Chris Pratt and Cobie Smulders. "Delivery Man" is produced by André Rouleau and executive produced by Ray Angelic, Scott Mednick and Mark Sourian.
The film releases on November 22, 2013.
Enter to Win Advance Screening Tickets to Delivery Man
Wednesday, November 20th
7:00pm
Scotiabank Theatre Toronto
Contest ends November 10, 2013 – tickets are only good for November 20th at Scotiabank Theatre and cannot be used at any other time. No transportation costs are covered.
Check out these other fabulous blogs also holding giveaways for Advance Screening Tickets:
All 8 cities – Snymed
All 8 cities – Powered by Mom
All 8 cities – Canadian Mom Reviews
All 8 cities – Downshifting
All 8 cities – Tales of a Ranting Ginger
Ottawa / Toronto – Canadian Blog House
Toronto – One Heart One Family 
Toronto – Maple Mouse Mama