I am very excited to offer the chance for one reader to win 2 tickets to the PEI 2014 Roadshow event in Toronto October 28th.  The winners will receive entry tickets to attend this exclusive event showcase PEI's 150th Anniversary celebrations!  A chance to enjoy drinks, oysters and music.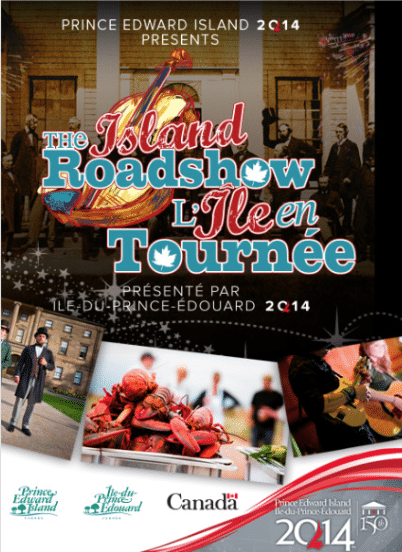 WHAT:                   The Island Roadshow: Celebrating the Birthplace of Confederation
WHERE:                Queen Elizabeth Theatre at Fountainblu, Exhibition Place – 200 Princes' Boulevard, Toronto
WHEN:                  Monday, October 28, 2013
TIME:                     5:00 – 7:00pm
About the PEI 2014 Roadshow event:
PEI 2014 kicks off 150th anniversary celebrations with the Island Roadshow in Toronto
PEI 2014 Inc. will unveil the Official PEI 2014 Celebration Calendar that features more than 150 exciting events and celebrations taking place on the Island.  The year-long Sesquicentennial celebrations will see the province buzzing with activity and alive with Canadian pride in recognition of the 150th anniversary of the historic Charlottetown Conference of 1864.  These celebrations will pave the way for the nation-wide celebrations in 2017 – Canada's 150th birthday.
The evening will include the following:
·       A must-see live performance, showcasing PEI's important role in our nation's creation, featuring the music of Island singer/songwriter Angele Arsenault and the late Stompin' Tom and Gene McLellan, in addition to side-splitting comedy by Patrick Ledwell
·       Island Chef Ilona Daniel, executive chef at the Culinary Institute of Canada located in PEI, will shuck and serve the freshest oysters from PEI
·       A PEI tourism expert who will enlighten guests about PEI 2014 travel opportunities, in true PEI style – at a country kitchen table
·       Indigenous Island cuisine and cocktails
·       Authentic 1864 heritage costumes
For more information about PEI 2014 and upcoming events and activities, go to www.PEI2014.com.
Join the online conversation at www.facebook.com/PEI2014 and on Twitter @PEI2014.