The first year of my twin boys life was a blur.  From their premature birth to hospitalization, to a zillion doctors appointment I never felt like I had time to just sit and relax and enjoy them as babies.  There was always something to do – usually laundry to fold!  But meal times were a time when we could slow down and just be.  Once the boys were old enough to feed themselves they loved to sit at the table in their high chairs and eat with us.  I loved watching their faces as we gave them their first bites of food.  Squash, sweet potatoes, apples, beef, chicken, and everything I could find to puree.  From the frowns to the smiles there was such a big range of emotion as they discovered the world through their sense of taste.
Cheerios were absolutely one of their favourite first foods.  They loved how they could pick them up themselves and thought they were the best 'on the go' snack in their snack traps.  Cheerios went everywhere with us.  In the car, on walks in their stroller, dinner out, and lots and lots of road trips.  In fact, Cheerios were one of the first things we bought in Mexico when we were there on vacation so the boys could have an easy snack that they knew and loved.
Now, breakfast includes Cheerios.  While they like the original, just like when I was a kid, Honey Nut Cheerios are their favourite.
Cheerios is creating a 2014 First Cheerios Mosaic capturing all of your first moments.  Go to the Life Made Delicious Facebook page and enter your photo now to receive a $1 off coupon plus a chance to be featured on upcoming Cheerios cereal boxes!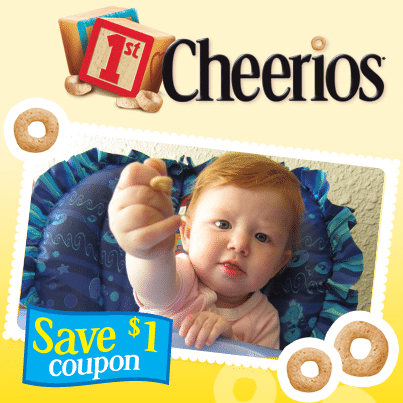 Disclosure – I am participating in the First Cheeriosblogger campaign by Mom Central Canada on behalf of General Mills. I received compensation as a thank you for participating and for sharing my honest opinion. The opinions on this blog are my own.