You've probably seen the commercial.  The young woman is relaxing with her almonds and the noise from a neighbour's apartment forces her to go over and ask him to turn the music down, but instead they indulge in milk and almonds.  Cute right?  Love found over almonds and milk? While I can't guarantee this product will help you find love, I can assure you that it will result in a taste your family will love! Amoré Almonds + Dairy is a beverage combining the goodness of real dairy with the creamy nutty taste of real roasted almonds.
I became a fan of almond milk a few years ago.  I liked it's nutty flavour and loved using it in smoothies and drank it straight.  But, I missed the creaminess of dairy.  When I tried almond milk in my tea it was to thin to make my tea taste creamy and rich.  When I was asked to try Amore Almonds + Dairy I was excited to see if I would like it as much as almond milk but with the added creaminess of dairy.  And, I did!
I am madly in love with Amore.  From my tea, to morning cereal to baking, I have added Amore into so many things and I love its versatility.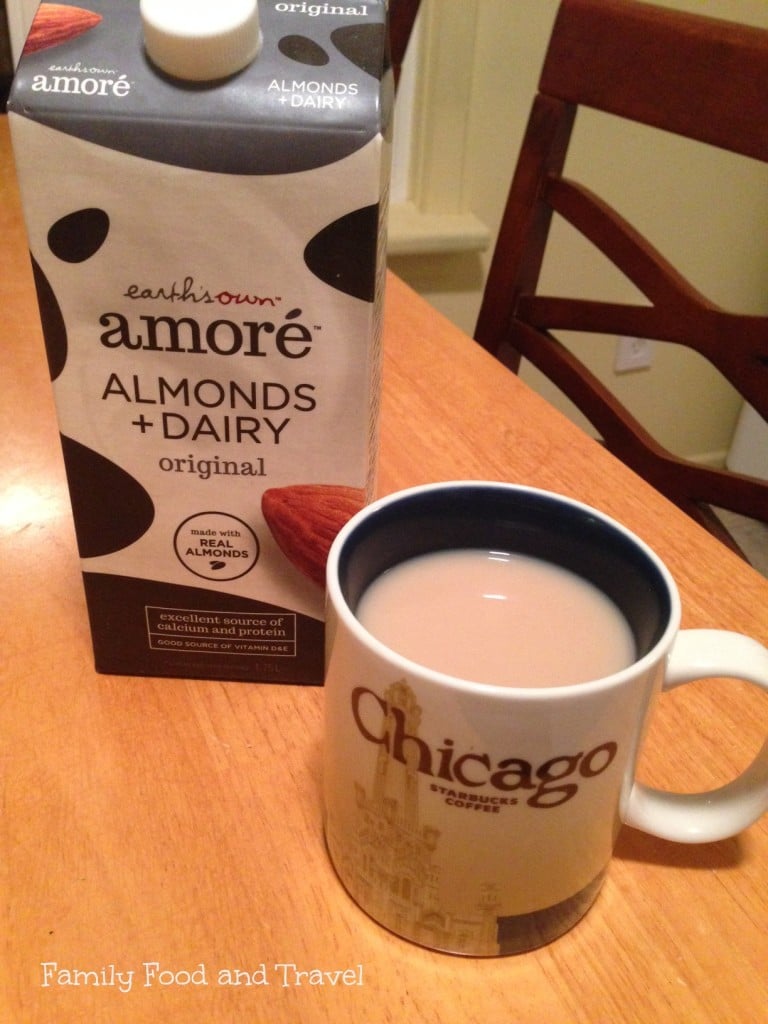 I was surprised to learn that two thirds of Canadians are not getting the minimum two servings of dairy that are recommended each day. Amoré Almonds + Dairy gives Canadians a new way to enjoy dairy and to meet Health Canada's guidelines since Amoré Almonds + Dairy has 50% more calcium per serving than milk and is an excellent source of protein and Vitamin E.
Looking to find Amore in your area?  Check out their Facebook page and click on the Where to Buy tab.
One lucky Family Food and Travel reader will win a special "Staying In Amore Prize Pack" valued at approximately $40 and filled with everything you'd need for a cozy night at home.
a Rafflecopter giveaway