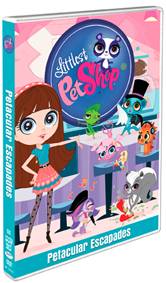 Blythe and her best friends — Zoe the spaniel, Pepper the skunk, Sunil the mongoose, Russell the hedgehog, Penny the panda, Vinnie the gecko and Minka the monkey — are back for five more exciting adventures in the Littlest Pet Shop! On October 1, 2013, Shout! Factory Kids, in collaboration with Hasbro Studios, will release Littlest Pet Shop: Petacular Escapades on DVD.  This collection features encounters with legendary parrots, movie stars and Blythe's sudden inability to understand the pets! All of these adventures and more happen in these petacular episodes of The Littlest Pet Shop!
Littlest Pet Shop: Petacular Escapades delivers captivating entertainment the whole family can enjoy and contains a brand new bonus sing-along. Featuring all-new original music by Daytime Emmy® Award nominee Daniel Ingram and the vocal talent of Ashleigh Ball, Tabitha St. Germain, Nicole Oliver and Peter New, Littlest Pet Shopcurrently airs on The Hub TV Network in the US.  Fans can pre-order their copies of the collection now by visiting ShoutFactory.com
Episodes Include:
Blythe's Crush
Dumb Dumbwaiter
Lights, Camera, Mongoose
What Did You Say?
Terriers & Tiaras
Bonus Features:
Sing-Along
Our review:
This was our first foray into Littlest Pet Shop and I wasn't sure if my boys would like it.  While they didn't get all of the humour they found it entertaining and captivating. They liked that the episodes were short so that they can have some quiet time without having to commit to a full movie.  My favourite part – the lessons around being yourself and not to worry about envy and jealousy.