The Little Mermaid Diamond Edition Blu-Ray Combo Pack releases on October 1, 2013.  A family favourite since 1989 is sure to delight a whole new generation of Disney fans.  When I opened the mail package and saw this movie inside I was SO excited to watch it.  That night my husband and I and our boys watched it start to finish.  Since then, my boys have requested to see it over and over again.  Their favourite character – Sebastien!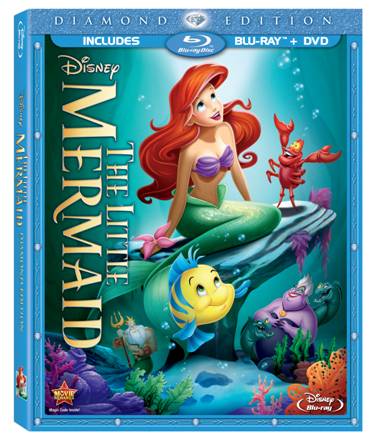 Synopsis:
The Little Mermaid: Diamond Edition Blu-rayTM Combo Pack
Ariel (voiced by Jodi Benson), is a free-spirited mermaid, who is off on the adventure of a lifetime with her best friend, the adorable Flounder (voiced by Jason Marin), and the reggae-singing Caribbean crab Sebastian (voiced by Samuel E. Wright) at her side. But it will take all of her courage and determination to make her dreams come true—and save her father's beloved kingdom from the sneaky sea witch Ursula (voiced by Pat Carroll).
Diamond Edition Bonus Features: All-New Music Video; @ Disney Animation; Disney Intermission; Deleted Character; The RealLittle Mermaid: Live Action Reference Model; Part of Her World: Jodi Benson's Voyage To New Fantasyland; Howard's Lecture; Classic DVD Bonus Features
While I cannot believe that this film (one of my favourites) is 24 years old, I am so happy that I can share it with my family on Blu-Ray!