A few weeks ago I had the privilege of test driving the all new 2014 Chevy and GMC trucks – not only did they handle well, they were really fun too!  Growing up in rural Ontario I love trucks. I think they are so sexy! My first boyfriend drove a Chevy. And, who doesn't love this song…"in this brand new Chevy with the lift kit"…

Here's the specs on these two trucks.
2014 GMC Sierra 1500
GMC touts the all-new Sierra as the "most refined truck in the brand's 110-year history.  They have three all-new EcoTec3 engines, with a fully updated cabin. The trucks also boast next-generation IntelliLink connectivity that has a high definition 8-inch colour touchscreen that control audio, Bluetooth phone features and integration with all-new map displays.
I loved that the Sierra also has beverage containers and space for personal items. The centre console has additional cup holders and a discreet compartment large enough for most laptop computers.  And, the best features for all of your technology – 110-volt outlet, up to five USB ports, four 12 volt outlets and an SD card slot.
The 2014 Sierra also includes Forward Collision Alert with a forward facing camera that notifies the driver of an imminent collision, and a Lane Departure Warning system that tracks the trucks position in relation to lane markers on the road.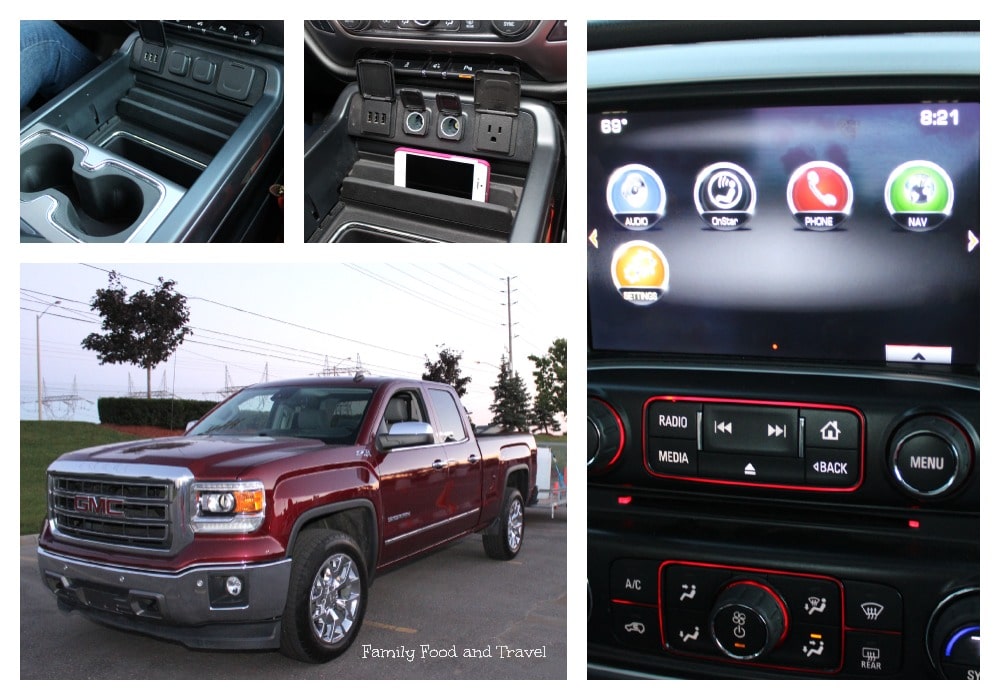 2014 Chevrolet Silverado 1500
The all-new 2014 Chevrolet Silverado is "all new from hood to hitch" and is outfitted to be refined, handle tough truck duties and boasts legendary Chevy dependability.
The Silverado has new MyLink technology that keeps you connected – enhanced voice recognition that allows you to place calls, enter destinations, browse media, play music and control other functions just by telling your truck what you need it to do.  Your truck can store up to 60 favourites including radio stations, contacts, destinations, music and other media.  These features are great for anyone who travels frequently.
All Silverado's include extensive interior storage, multiple USB ports, along with 12-volt and 110-volt power outlets so you can connect multiple devices at once.
When I was test driving this truck I was amazed by the cool safety features.  From the StabiliTrak electronic stability control with Trailer Sway Control and Hill Start Assist, head curtain side airbags and rollover protection the Silverado is a practical, stylish and modern vehicle for work or play.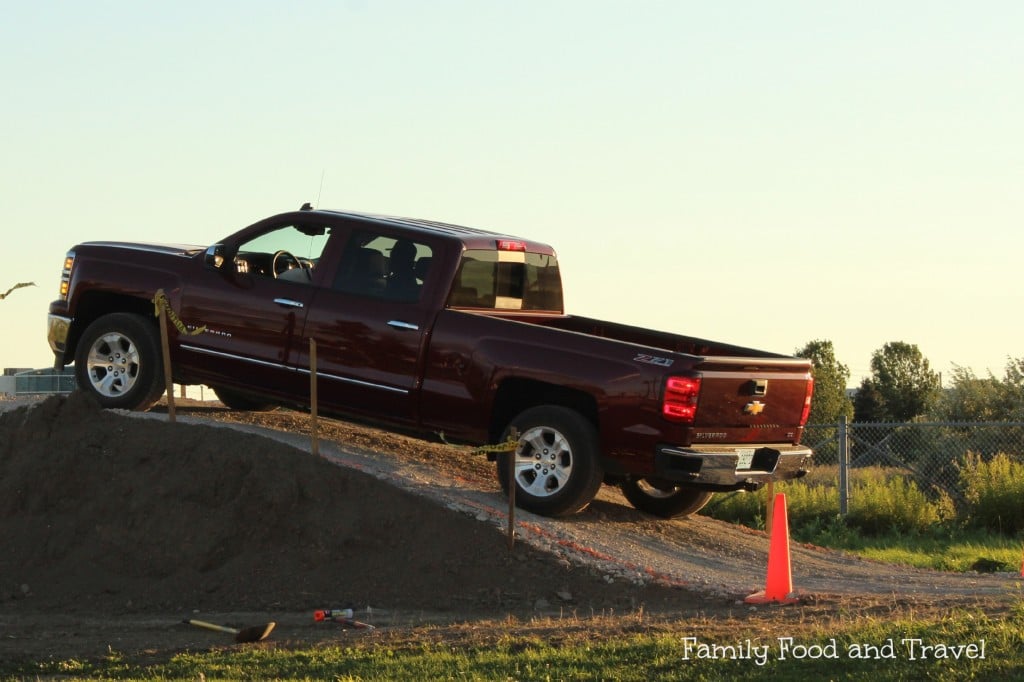 My test drive experience:
After we were shown a quick presentation on the trucks we were able to get up close and personal with them.  There was a choice of three courses to drive:  an off-road course, a dynamics course and a trailer manoeuvring course.  I of course had to try all three!
My favourite by far was the off-road course which gave me the opportunity to drive the truck on a steep incline, through a section that lifted one wheel off the ground and various other uneven terrain.  At no time did I feel worried about my safety because the truck handled so well.  I absolutely felt in control at all times. My good friend, Meredith drove through the dynamics course hydroplaning like a pro!  I admittedly loved driving the competitor trucks through this one as they really spun out. Not a feature I would want to experience on the open road, but on a closed course it was fun. My preference for real life = the Chevy. It handled perfectly making for a much safer ride – I'd absolutely feel safe driving my family in these vehicles.
My overall opinion: I truly loved both of these trucks and really appreciated how they were modernized and styled to appeal to a wide range of drivers.  Even though I am not someone who goes off-road or uses a truck for work, these vehicles would be ideal for our family road trips, camping trips and everyday driving in the country.  I hope I get to drive them again soon.