My dishwasher is one of my favorite kitchen appliances.  It has seen me through a lot of dinner parties, special events and feeding twin boys!  Plus, at our house, my husband's catering business uses our dishwasher.  The result is that it is definitely the workhorse of the family!
When Finish asked me to try out their Dishwasher Cleaner and Jet-Dry Agent I was more than happy to see how I could make my dishwasher get better results.  We live in an area with hard water and while I had become complacent with film and spots I was mortified when a dinner guest recently asked for a new glass because hers was 'dirty.'  As someone who takes pride in my home, this was such an embarrassment, but upon examining the glass, she was absolutely right.  It had been through my dishwasher but was not clean.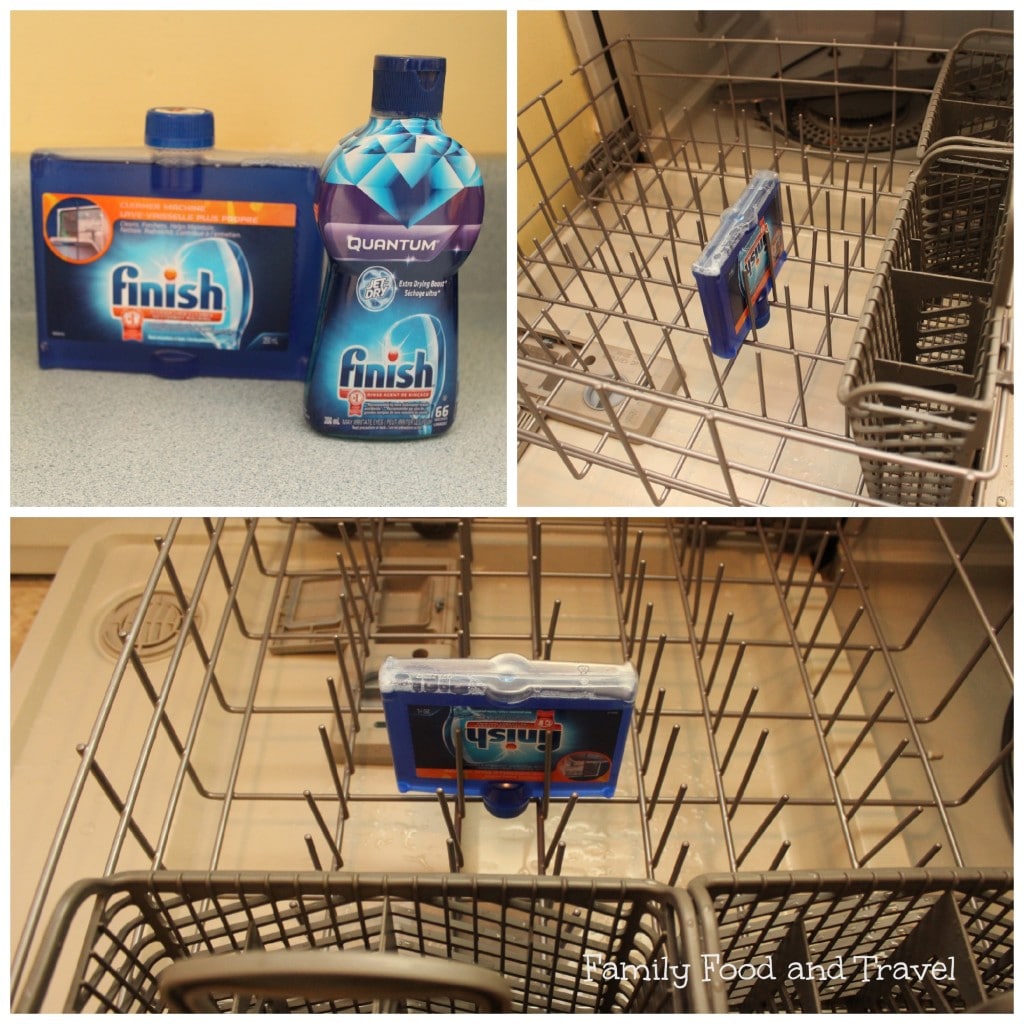 How to Clean Your Dishwasher
When the Finish products arrived I read the instructions and was surprised at just how easy it was. All I had to do was remove the sticker (without removing the lid), place on the bottom rack and set your dishwasher at its highest temp wash and voila – clean dishwasher and cleaner dishes!  Cleaning my dishwasher couldn't have been easier.
When used in combination with the Finish Jet-Dry agent I am confident that my dishes are as clean as they can be.  I feel like I have a little dishwashing team working hard in there!
Looking for more information on when to use Finish Dishwasher Cleaner?

Directions for Finish Dishwasher Cleaner –  just remove the sticker from the top of the bottle without removing the cap. Make sure your
dishwasher is empty. Place the bottle upside down in a dish rack or in a secure position and run the dishwasher. For
best results, use once a month.
Want to Boost your Dishwasher's cleaning ability?

Directions for Finish Jet-Dry Rinse Agent:  Fill your rinse agent dispenser with FINSH® JET-DRY® Rinse Agent and it will be automatically released in the rinse cycle every time your dishwasher runs.
For more videos and instructions go to the Finish Dishwashing Expert website.
Do you clean your dishwasher?  How often?
Disclosure: I am part of the Finish Canada Blogger Campaign with Mom Central Canada and I receive special perks as part of my affiliation with this group. The opinions on this blog are my own.