Yesterday was a rainy day, the perfect day for a movie!  My family and I curled up on the couch with some popcorn and watched Epic on Blu ray – wow, what a fantastic movie! Here is my Epic movie review:
While the movie was too complex at times for my 3 year olds, it is the perfect film for older kids and adults.  My husband and I loved the stunning animation, the bright colours and the compelling story make it fun, humorous and engaging.  My boys loved Mug (the Slug) and Grub (the Snail) and were asking to watch the movie again today.
I would recommend Epic and look forward to watching it again with my boys.  Definitely worth the watch for families with kids of any age.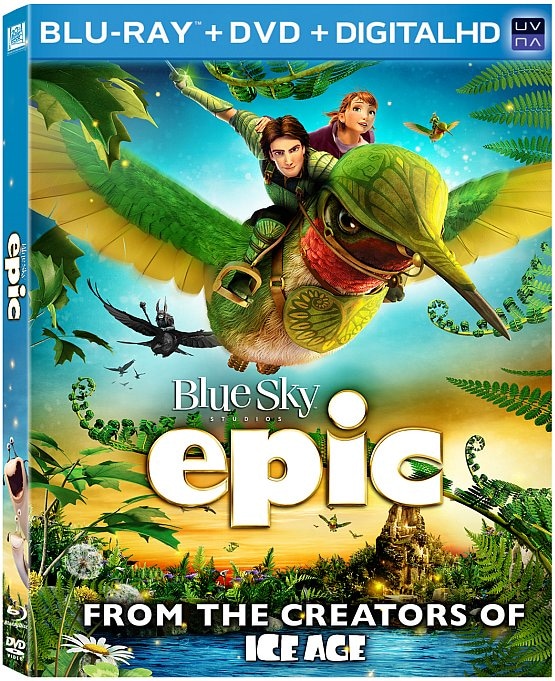 Check out the official movie trailer:

Here's what 20th Century Fox has to say about Epic:
Bring home Epic Adventure with a Brand New Interactive Coloring App
and Nearly an Hour of Fun and Immersive Special Features for the Whole Family
From the creators of Ice Age, the year's funniest, most exhilarating animated adventure comes home as EPIC debuts on Blu-ray Combo Pack, Deluxe Edition Blu-ray, and DVD this August 20 from Twentieth Century Fox Home Entertainment. Directed by Chris Wedge (The Ice Age Franchise) and featuring an amazing voice cast including Colin Farrell, Amanda Seyfried, Christoph Waltz, Jason Sudeikis, Steven Tyler, Pitbull, and Beyoncé, the blockbuster film comes home just in time to help families become one with nature and end the summer in Epic style.
Synopsis: 
Transported to a magical world, a teenager (Amanda Seyfried) is recruited by a nature spirit, Queen Tara (Beyoncé Knowles), to help the "Leafmen" save their existence – and ours – from evil warriors. The whole family will love this fast-paced thrill-ride, with its astonishing animation and all-star voice cast that includes Colin Farrell, Oscar® Winner Christoph Waltz, and Steven Tyler!
Bonus Features:
Every Blu-ray and DVD comes with the Epic Coloring and Storybook Builder app. The app will allow kids to create their own Epic story and share it with family and friends.
The EPIC Blu-ray combo-pack includes Blu-ray, DVD and DigitalHD and comes complete with exclusives that will have kids both engaged and learning about the environment, just before heading back to school. With special features including an overview of what life as a person two inches tall would be like, to discovering all of the different bugs from the film, EPIC is the perfect gift for families to enjoy from summer to the holidays!
,br.
Want more Epic?  Check out the Epic Printables and Activity Sheets available here.