My family loves making paninis – we'll try anything in a panini to see if we like it!  But, one of our favourites is to take a leftover meat from the previous night's dinner, add some cheese and grill it.  The result is a wonderfully warm, toasted cheesy sandwich filled with deliciously filling and nutritious ingredients.  This creation is by far one of my top 3 favourites!
I created this easy grilled steak panini as a great way to use leftover steak.  We love grilling steak but reheating leftovers never tastes the same.  Instead, we found this to be the perfect solution.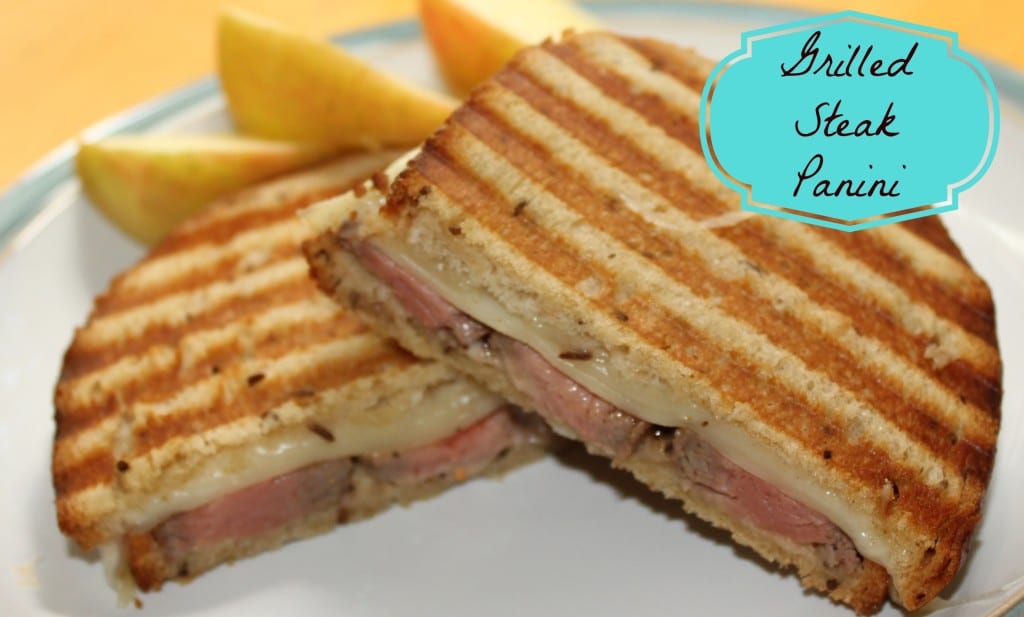 Easy Grilled Steak Panini
Ingredients: 
Butter
Two slices of bread for each sandwich
Thinly sliced steak (3 pieces for each sandwich)
Sliced cheese (pick your fav!)
Ranch or Caesar Salad Dressing
Directions: 
Turn on indoor grill/panini maker.  Butter the outside of each slice of bread.  Once Panini Maker is hot place first slice of bread butter side down.  Spread a thin layer of salad dressing, place a slice of cheese, 3 slices of steak, another slice of cheese and your top piece of bread.  Close panini maker and grill for 2 minutes or until cheese is fully melted.
Slice in half, serve with salad, pickles and/or apple slices.