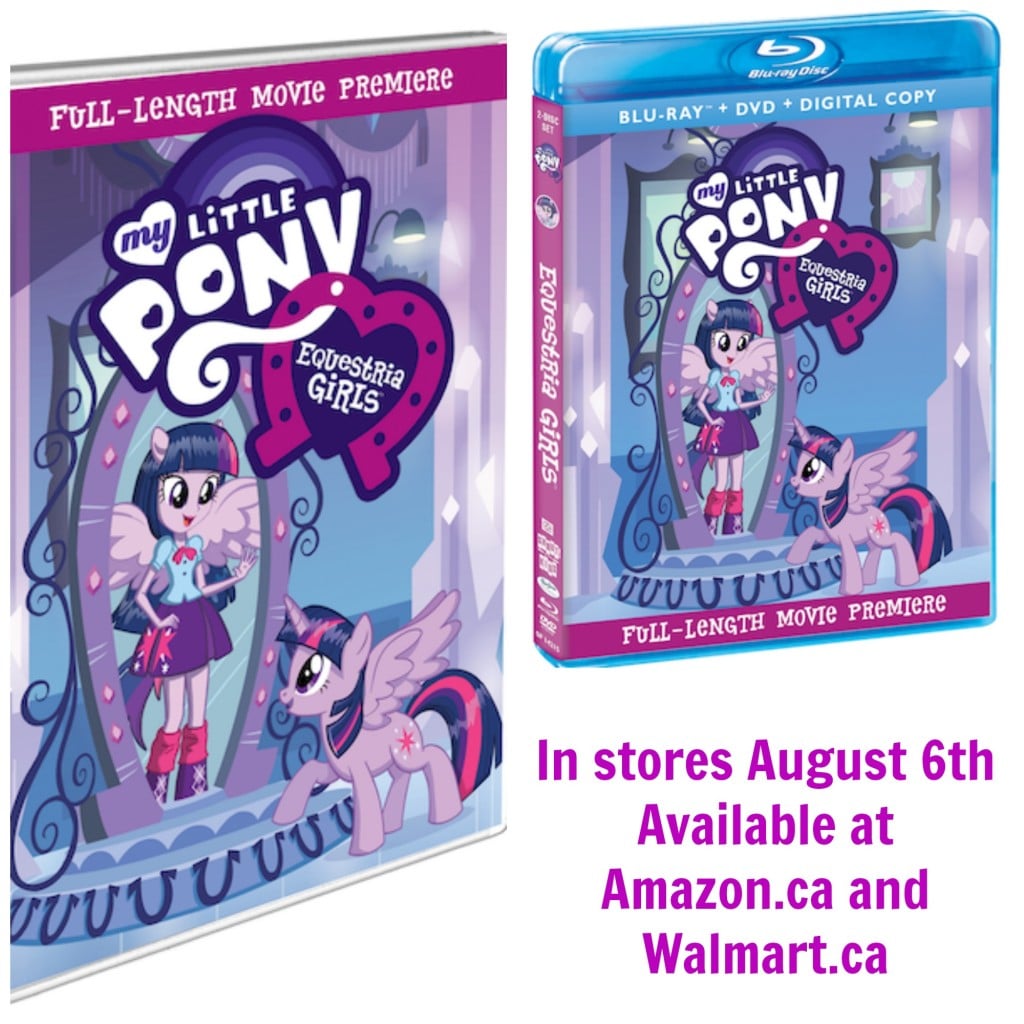 A new exciting dimension to the very popular My Little Pony brand, is a new DVD and Blu-ray available in Canada from Shout! Factory Kids, in collaboration with Hasbro Studios.  The DVD, which includes a number of cool bonus features is priced at $16.99 and the Blu-ray/DVD/Digital combo is $24.99.  I don't know about you, but I love the combo!  It plays in our home on the Blu-ray, in the car's DVD and the digital download is great when we travel to watch in hotel rooms.  My Little Pony Equestria Girls has both English and French tracks, and is available at Amazon.ca and Walmart.ca – DVD, Blu-ray.
I was excited to preview a copy of a full-length featureMy Little Pony Equestria Girls.  As such a big fan of My Little Pony as a kid I knew I would love this movie.  Even though my boys are usually watching Thomas the Train, they were captivated by My Little Pony and were fascinated with the transformation to a teenaged girl.  They kept asking why the pony turned into a girl!
Synopsis from Shout! Factory:
When Twilight Sparkle's crown is stolen from the Crystal Empire, she pursues the thief  Sunset Shimmer, into an alternate world where she finds herself turned into…a teenage girl!  To regain her crown and return to Equestria, Twilight must learn how to fit into this strange, new world and defeat Sunset Shimmer in a competition to become the crowned Princess of the Fall Formal at Caterlot High.  Luckily, she will have the assistance of Spike and five teenage girls who remind her of a certain group of ponies back home.  
My review:  Another feel good story from My Little Pony that is aimed for a female audience but is engaging and enjoyable for boys alike.  Love the bonus features, the positivism of the message and the messages interwoven into the story.
Watch the trailer:

Check out their fun website where you can see yourself as an Equestria Girl. And you can watch the other trailers at My Little Pony's YouTube Channel.