Tonight was date night at home with my hubby.  It was a rainy night, and a great excuse to relax, and watch a movie.  I had recently been sent the film Trance to review and was looking forward to seeing it.  Titled as a psychological thriller by British Director, Danny Boyle (Trainspotting, Slumdog Millionaire, 127 Hours) I knew we'd be in for a treat.  I was definitely right.  Trance is a the kind of movie I'll be thinking about for days to come.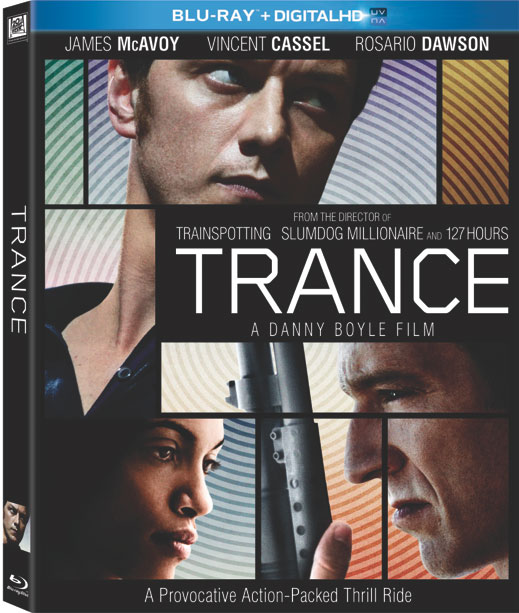 Synopsis:
From ACADEMY AWARD®-Winning director Danny Boyle* (Slumdog Millionaire) comes an "exhilarating brain-twister" (New York Post)! After a blow to the head during his attempted robbery of a $27 million Goya painting, Simon (James McAvoy, X-Men: First Class), a fine-art auctioneer, awakens to find that the painting – and his memory – are missing. Forced by his ruthless crime partner Franck (Vincent Cassel, Black Swan) to undergo hypnosis, Simon enters into a deadly love triangle with his seductive hypnotist (Rosario Dawson, Sin City). As the plot twists, the line between reality and dream becomes blurred in this fast-paced, unpredictable, "sexy and suspenseful" (Empire) thriller.
My Trance Movie Review: 
Trance is absolutely everything it says it is.  An exciting movie full of twists, turns and unexpected plot developments.  At first it seems a bit confusing but give it time and you will be brought into a real intellectual thriller.  I love Danny Boyle's films and found this one to be as thought provoking as his previous movies, but in a much different way.  The impact of hypnotism and other methods of altering people's memories is a large focus of the film.  In some ways the film reminded me of Inception or Memento in the way it played with time but Trance is more of an edge of your seat thriller.
A word of caution, the film is rated 14+ but in my mind R is a better rating. There is quite a bit of violence as well as full frontal nudity.  Not a movie I think you'd want to watch with your kids.
Overall, I really enjoyed the film.  It was edgy, fast paced, complex and interesting.  A good intellectual thriller that kept me questioning and thinking the entire time.
Watch the Trailer: 

Have you seen the movie?  What did you think?