I recently received a SodaStream Jet to review.  Having been a SodaStream user for 2 years I was was excited to try a new model and see what it can do. What I love about SodaStream is that our family can enjoy soda at home for less than buying it at a grocery store, the syrups have no high-fructose corn syrup, do not contain aspartame and you can use simple tap water.  Plus, the cylinders are recyclable and each SodaStream is said to eliminate 2000 bottles a year.  It safe, delicious, and an environmentally friendly alternative.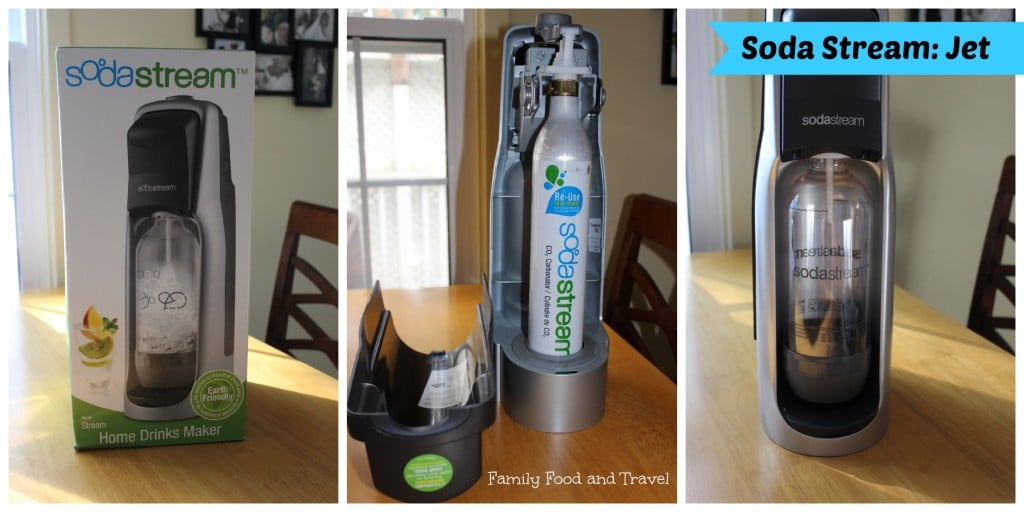 I really liked the Jet.  It is easy to use, easy to install the cylinder and is much quieter than the model I had from a few years ago.  The one feature that I wished the Jet had was the gauge to read how much CO2 is left in the cylinder.  There is nothing worse than wanting to make some soda and not having enough gas!
Most Soda Stream's come with some sample packages, but if not, I would highly recommend the sampler with 12 packs (shown in picture below).  This gives you an opportunity to try out the flavours and find a few that you love enough to purchase a large bottle.   In our house we have everything from Kool-Aid to Crystal Light to Green Tea Pomegranate Mango.  One of my favourite things about soda stream is that you control how much syrup goes in. You can have lots of syrup for a rich flavour or just a bit.  And, you can make it in seconds.
Check out the stats comparing Coca Cola to a Small Double-Double to a Soda Stream Orange Mango – the calories and sugar levels are incomparable. SodaStream wins hands down for lower sugar, lower calories, and lower carbohydrates.
Prepared Size: 250 mL
| | | | |
| --- | --- | --- | --- |
| | Coca-Cola | Small Double Double | Orange Mango |
| Calories | 100 | 150 | 35 |
| Fat/lipides | 0g | 7g | 0g |
| Saturated/ saturés + Trans/ trans | 0g | 7g | 0g |
| Sodium | 30mg | 30mg | 10mg |
| Carbohydrate/ Glucides | 27g | 18g | 8g |
| Fibre/ Fibres | 0g | 0g | 0g |
| Sugars/ Sucres | 27g | 18g | 8g |
| Protein/ Protéines | 0g | 0g | 0g |
* Coca-Cola® is a Registered Trademark of The Coca-Cola Company.
With over 60 flavours to chose from you are sure to find endless options for fantastic carbonated drinks.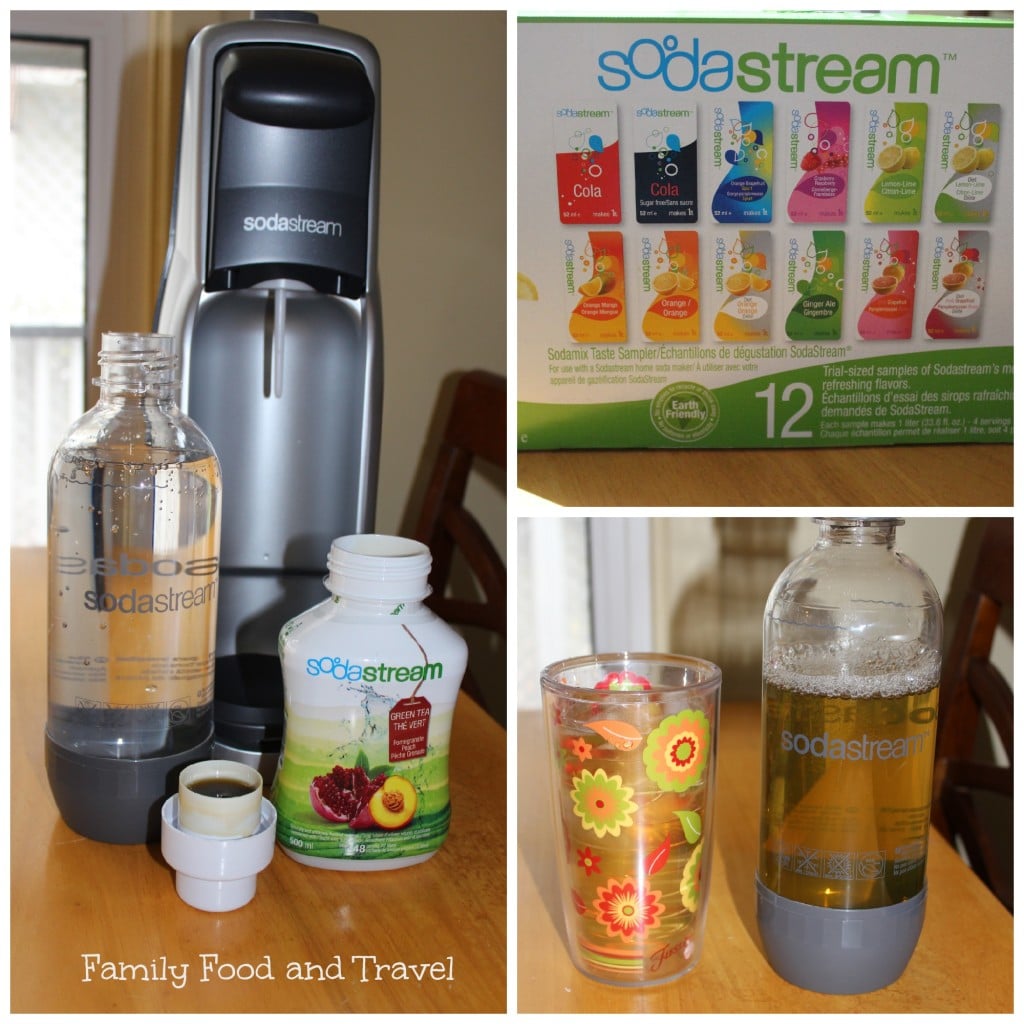 Check out this fabulous video about the SodaStream Jet and how to use it:
My family loves our SodaStream and are really enjoying this new machine.  Whether we make carbonated water and add a slice of lemon or mix in a great flavour, it is a favourite for any season.
Looking to buy a SodaStream.  Check out their online ordering and store locator.
Do you have a SodaStream?  Do you love it?