I am always amazed by the beauty of our natural environment and when I was pregnant I thought a lot about what I was taking into my body in the hopes that I would give my twin boys the healthiest start I possibly could.  Unfortunately, with the prevalance of environmental toxins it appears all of my efforts many have still resulted in chemicals in my boys' bodies.  A terrifying thought.
When Environmental Defence asked me to raise awareness of their new report, I was more than happy to.  This is something we all need to take a stand on so that our kids can have a happy healthy life and a healthy start.  Here's some information on the findings of their study:

 Pre-Polluted: A report on toxic substances in the umbilical cord blood of Canadian newborns. The report found that Canadian babies are being exposed to a slew of chemicals while in the womb because they are so pervasive in the environment and in the products we use. Some of the chemicals tested for are linked to serious health issues such as cancer and developmental and reproductive problems. 
Environmental Defence tested the umbilical cord blood of three newborn babies from the GTA and Hamilton, and found each child was born with 55 to 121 toxic compounds and possible cancer-causing chemicals in their bodies.  We tested for, and found at low levels, PBDEs (flame retardants), PCBs, PFCs, Organochlorine pesticides, dioxins and furans and mercury and lead – chemicals that are pervasive and persistent in our environment. Of the 137 chemicals found in the umbilical cord blood, 132 are reported to cause cancer in humans or animals.
When it comes to reducing toxic pollution, government, industry, and the public all have a role to play. When scientists and government agree that a substance is toxic to human health, it must be phased out as soon as possible. Currently, chemicals like certain PBDE flame retardants can still be contained in imported furniture, despite plans for prohibitions having been announced by the federal government several years ago. Industry often takes action before bans are announced, but there are many chemicals still in products that businesses should stop using, like phthalates and PFCs (non stick coating chemicals). The public can make a difference by refusing to buy products that contain toxic "chemicals of convenience" and by letting decision makers in government and business know that it's time for a change. 
This video really brings the message home for me:
What can you do?  Read the report to learn more, take action by signing the petition, and keep visiting Environmental Defence to find out more about how you can get involved.
Kids Deserve a Healthy Start Giveaway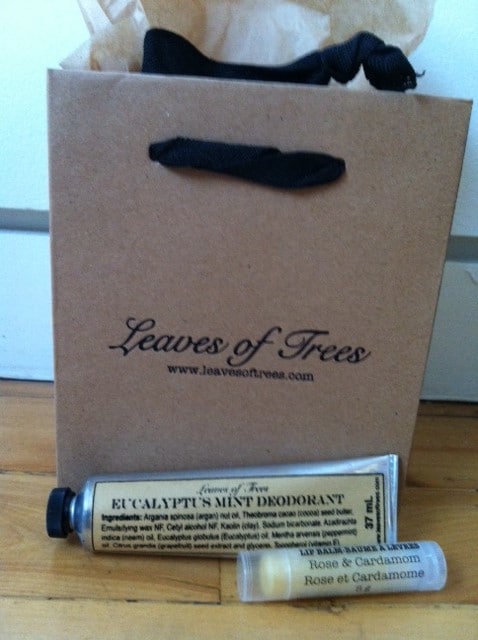 To help raise awareness of healthy products, Environmental Defence is offering two lucky Family Food and Travel readers a prize pack of Leaves of Trees (a Just Beautiful company) Eucalyptus Mint Deodorant and Rose and Cardamom Lip Balm.  Contest open to Canadians.
AND THE WINNERS ARE…
results powered by Random.org