If your dog is anything like Jackson he loves a good party!  Jackson loves to be around people, does well in large groups and is a very social dog.
Yesterday we got our very first invite to a dog concert Iams SO GOOD Doggie Jam and you can come too!  Here are the details to this fantastic doggie event.
Iams SO GOOD! Doggie Jam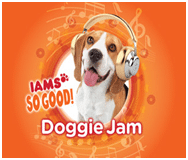 To celebrate the launch of Iams SO GOOD! food in Canada, Iams is throwing Canada's first ever concert for dogs – The Iams SO GOOD! Doggie Jam. On June 8, Iams is inviting you and your furry friends to join them and as many as 5,000 dogs and pet lovers to attend a classical music concert where a 42 piece orchestra will perform music created specifically for canine hearing. The Iams SO GOOD! Doggie Jam is a one of a kind event that is guaranteed fun for everyone in your family!
Event details:
When:                 Saturday, June 8, 2013  –  4:00 – 8:00 p.m.
Where:                Echo Beach  999 Lakeshore Blvd. West, Toronto, Ontario, M6K 3L3
Iams SO GOOD! Giveaway!
Iams is providing a SO GOOD! giveaway valued at over $60 which  includes:
 Family pack of four tickets to the 

Iams SO GOOD! Doggie Jam

  in Toronto

Two product vouchers to try the new Iams SO GOOD! dog food 
*This Giveaway Has Ended*

Tickets for the Iams SO GOOD! Doggie Jam are available through Ticketmaster: http://bit.ly/CanadaConcert