Mother's Day this year was a day of great reflection for me.  I've been a mom for 3 years.  Three of the most amazing and difficult years I could imagine.
Being a mom is the hardest job I've ever had.  Like many mothers, I struggle with the delicate balance of work, family, and personal time.  I need to remind myself to be present and live in the moment.
I dream of being the kind of mom who isn't upset by her children's tantrums, or frustrated with their infantile behaviour. I long for some sort of potty training specialist to drop out of the sky and train my boys for me.
Becoming a mom wasn't as hard for me as it was for many of my friends, but it was a process that broke my heart every month I wasn't pregnant. I wanted to be a mom so badly.
I had a challenging pregnancy and a near fatal delivery.  But, nothing has compared to the experience of being a mom.
Being a mom has tried my patience, caused me to do things I never thought I would do.  It's made me cry, laugh hysterically, want to pull my hair out and fight with my partner.  It's caused me to lose friends, gain friends and put a greater strain on some of my relationships than I ever thought possible.
Being a mom has also taught me that I will stand up for my beliefs no matter what and threats to my children make me the meanest Mama Bear ever.
Now that I am a mom I carry a camera everywhere, constantly wish I'd gotten every moment on video and resulted in the creation of this blog.
Being a mom has caused me to look at everything in my life and the world around me differently.  I fear scary TV shows, movies and news reports.  I cry at commercials, the zoo and the doctor's office.   I appreciate a good babysitter and give the great ones presents as often as I can afford.  There is nothing so amazing as being able to leave your children with someone else and not worry about them for a minute.
Being a mom has made me appreciate my mom more than ever.  I am in awe of her strength and resiliency daily.
My boys have taught me so much about love, and trust and family.  They show me everyday how important it is to learn, to explore and to live in the moment.  They have filled my heart and my soul with their beauty and kindness.
Being a mom has caused me to eat chocolate covered almonds for lunch and think that is okay.  It's forced me to rethink my relationship with food and evaluate labels and ingredients.
Being a mom has made me want to be better at everything.  To lose weight, to exercise more, to be kinder to myself so that I can set a good example for my boys.  At the same time, being a mom has exhausted me to the point that I don't think it is possible for me to go on.
In the end I love being a mom almost all of the time and I have to forgive myself for the parts I don't.  For every difficult moment there are hundreds of amazing moments.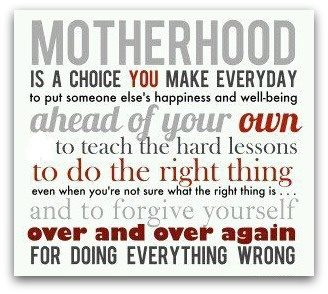 Being a mom is the best and the hardest thing I have ever done.  I am so thankful for the gift of motherhood and I hope I have the strength to survive it!
What are the hardest and most surprising parts of being a mom for you?