Love tea.  It's my favorite afternoon pick me up, or an evening cup of warmth.  As a tea lover, this busy mom loves the Libre Tea Infuser Mug.  I recently received one to try and I haven't put it down since taking it out of the box.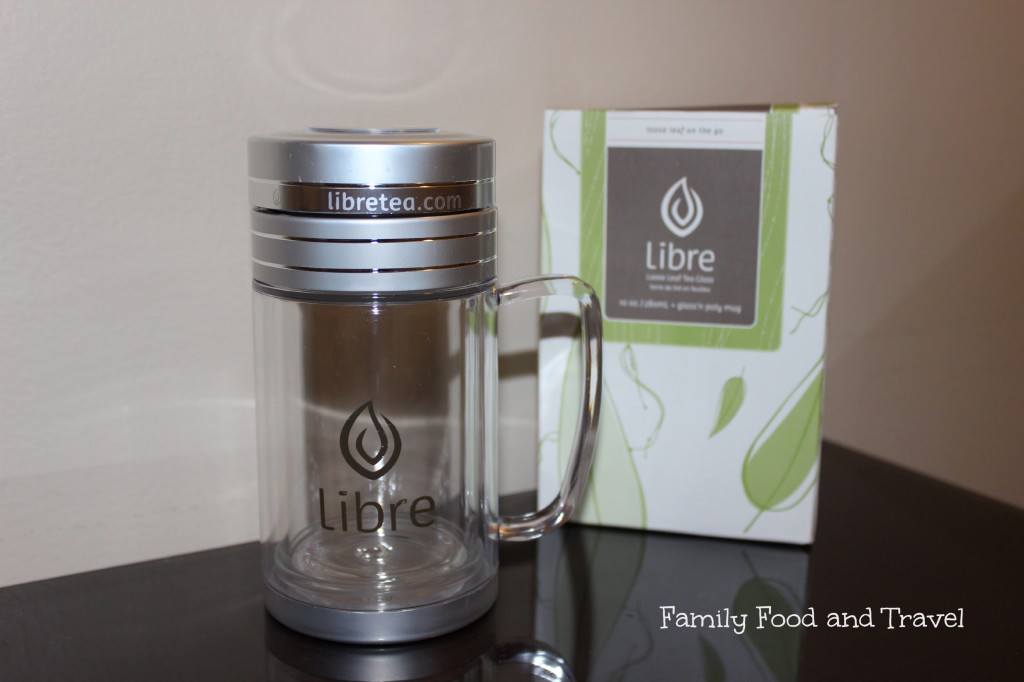 What I love:
Hot tea is kept in a glass container protected by strong poly.  Since your tea doesn't touch the plastic, no plastic is leached into your beverage making it a safe and health conscious way to enjoy tea.

Easy to use, easy to wash
Two options to brew – one for limited steeping – one for unlimited steeping
Easy to buy online or from a store direct.
The mugs are beautiful!
How to enjoy your Libre Tea Mug:
#1 – For teas in the glass:
Step 1 – remove lid and tea filter, add 2-3 grams of loose- leaf tea to the glass.
Step 2 –  filter, add hot water and allow the tea to steep.
Steam Advisory – Use Caution With Boiling Water — Allow Time For Steam To Dissipate Prior To Twisting On Lid – STEAM PRESSURE MAY CAUSE LEAKS
#2 – For teas with limited steeping times:
Step 1:
Step 2:
Step 3:
Remove the lid and filter; carefully add hot water to below the rim of the tea glass.Twist the filter on securely; add 2 -3 grams of loose- leaf tea on top of the filter.

Wait 2-3 minutes prior to twisting on lid so steam pressure does not force a leak upon inverting.

After a brief cool down period, twist on the lid securely and slowly turn the glass upside down to steep the tea.
Twist off the lid and filter together.Enjoy. (Note: spent tea leaves remain in the filter and can be reused)
One lucky Family Food and Travel reader will win their very own Libre Tea Mug.
Contest runs until May 31, 2013 and is open to residents of the U.S. and Canada