With a husband who is a chef, and a family that loves great food, we love to watch cooking shows and chef competitions on TV.
Our favorite is Top Chef Canada!  We love the challenges, competitions and try to imagine what it would be like if my husband competed on it.  Maybe one day he'll get the chance!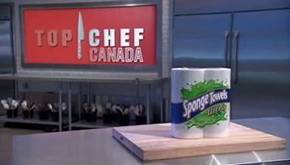 I am excited to pass along Top Chef  Canada's fantastic contest, sponsored by SpongeTowels.  Here are the details:
"SpongeTowels is also providing one lucky viewer with a unique experimental prize and we'd love it if you helped us get the word out there! You and your readers can participate right from home by casting your vote in the weekly elimination challenge. One viewer will win the ultimate prize – a cooking demonstration and dinner with season two's winner, Carl Heinrich at his restaurant, Richmond Station, in Toronto. The lucky winner will also receive airfare and two nights accommodation in Toronto".
What a fantastic contest!
So, grab a snack and a computer or handheld device on Mondays at 9pm EST and get ready for another fantastic episode of Top Chef Canada.
If you win the contest – I'm always free for dinner!
Happy Voting :)