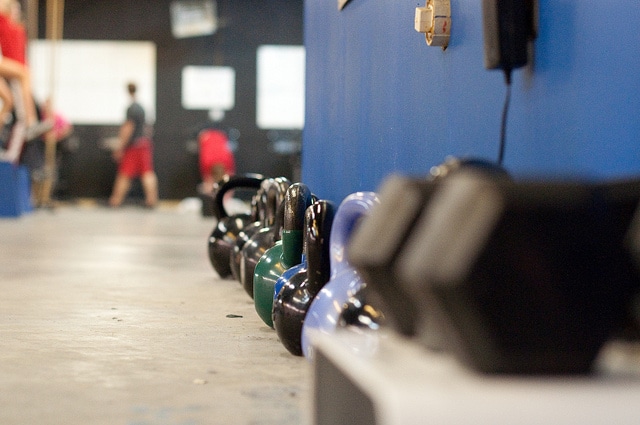 photo credit: Bruce A Stockwell via photopin cc
If you aren't familiar with the items in this picture, they are Kettlebells.  And, I hate them.
I realize that hate is a strong word, and one that I rarely use, but Kettle bells, in case you didn't know, I hate you.
Yesterday I went back to my CrossFit gym for the first time in over a month.  I hadn't been because we went away for 3 weeks and I am usually crazy busy pre and post trip. So, yesterday was the day.  I got up at the crack of dawn (5:30am) and headed to the gym, hoping beyond hope that it was a strength training workout rather than a cardio based one.  Sadly, it was both.   Here was the workout:
Reps:  21 – 15 – 9 – 15 – 21
Exercises: Kettlebell swings, hand release push ups, Kettlebell sumo dead lift
Brutal
Needless to say every single fibre of my body hurts today.
As I gingerly tried to walk down my stairs today it got me thinking.  What is it about exercise that makes me love and hate it.
At the end of yesterday's workout I left feeling tired, but exhilarated, a sense of great accomplishment for tackling and completing a task I didn't think I was capable of doing.
As a young kid and a teenager I played a variety of sports – Field Hockey, Baseball, Rowing, Badminton and I loved them all. Then, I went to University and convinced myself that I was 'too busy' to exercise.  I gained weight, started eating poorly and those habits have been a constant battle ever since.  I have finally found  something that I love again (CrossFit) but I still have trouble fitting it into my busy schedule.  It seems everything takes a higher priority over exercise.  As a mother of two young boys I want to set a good example.  I don't want them to be embarrassed that their mom is overweight.  I want to run and play and enjoy life and the outdoors with them. Things need to change.  I need to make myself and exercise a priority.  I need to lean more on the love side of exercise and move away from the hate.  I need to find the enjoyment in exercise again.
So, Kettlebells.  I hate you know, but maybe, just maybe we will become friends.