Looking for a fun and easy craft? Try making a t-shirt bracelet.
This t-shirt bracelet is made from new or old t-shirts cut into strips and braided with a colored cord. A fun, easy, upcycle craft.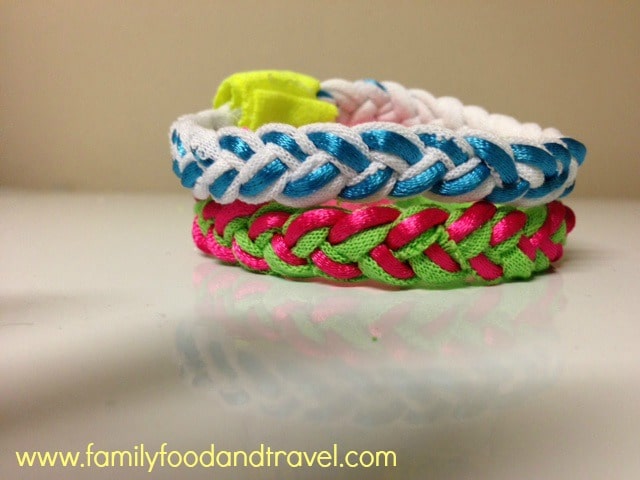 I found this bracelet one day when I was searching Pinterest for bracelets.  I loved the idea of using an old t-shirt and creating something that was fun and fashionable.
There are LOTS of t-shirt bracelet tutorials on the web, all with fun variations and themes.
I chose this one because I loved the cord braided in and the magnets seemed like a great idea.  My plan was to make the bracelets with a group of friends.
I headed to Michael's to find the supplies I needed.  Here is what I bought: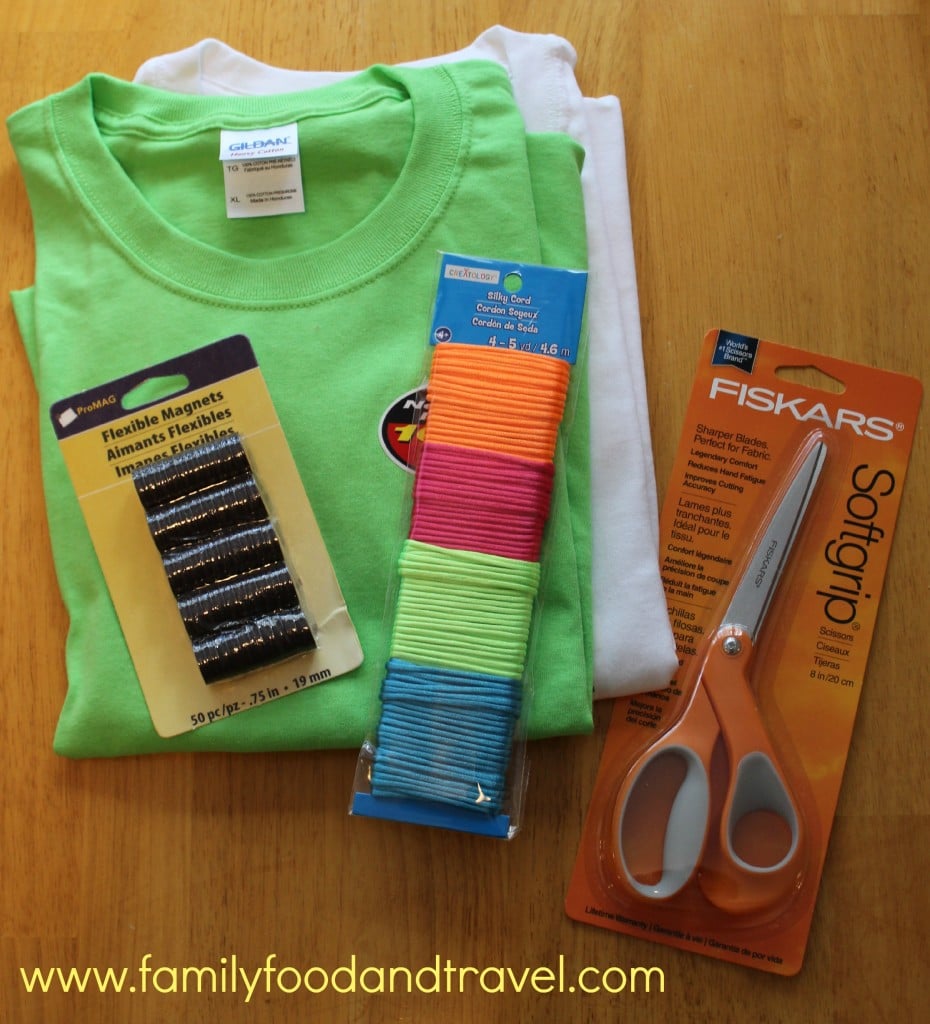 Yes, I had to buy new scissors.  I deemed the old ones I have at home incapable of cutting fabric with any sort of precision!
DIY T-Shirt Bracelet
To make your t-shirt bracelet:
Cut t-shirt into 1-inch strips about 15 inches in length (you will need 3 pieces).
Cut the cord into pieces 15 inches long (you will need 3)
You will also need:  a hot glue gun, 2 elastics or 2 pieces of string, magnets
Step #1 – attach the pieces of cord and t-shirt strips together with an elastic or tie a piece of string.
Step #2 – clip end to a book, or have a friend hold it
Step #3 – braid, making sure that the cord is on top and not hidden by the material
Step #4 – tie string or elastic around the end and cut excess cord and t-shirt material off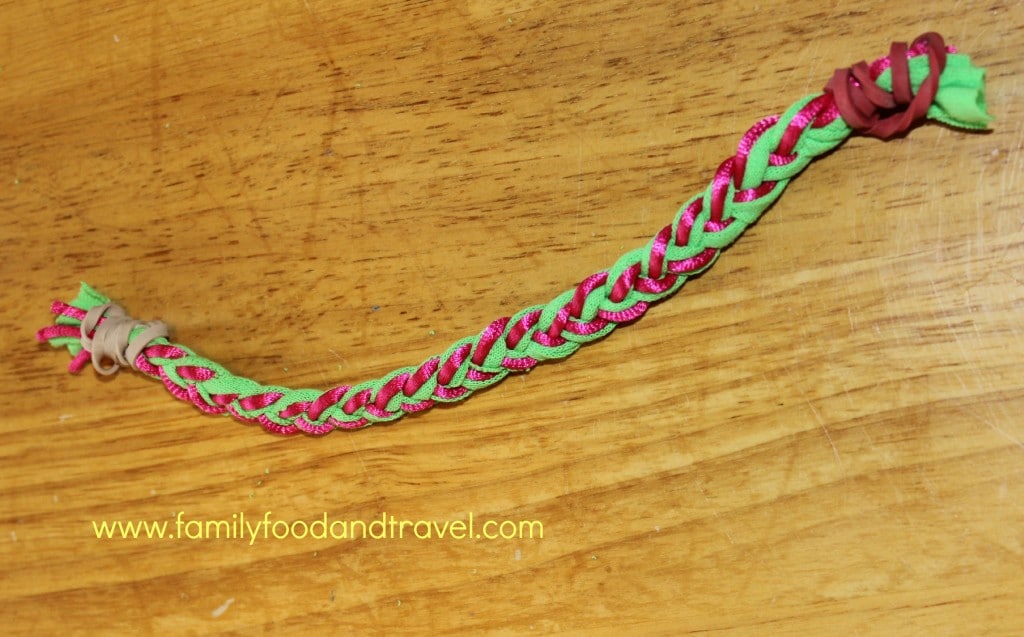 Step #5 – hot glue gun the ends to a magnet – remove elastics or string once cooled.
Step #6 – cut a strip of t-shirt material and wrap it around the magnets to form a type of "sleeve" to cover the magnets
Step #7 – marvel at how easy this was!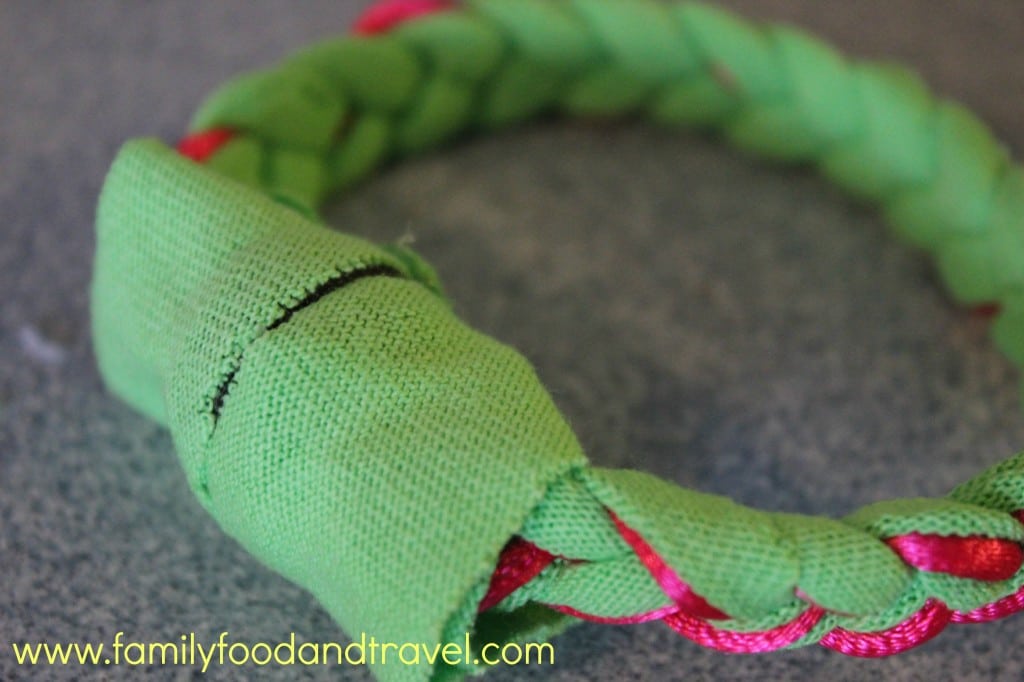 Head to your closet and grab some t-shirts you aren't wearing to turn them into fun bracelets.
A great camp activity for tweens and teens.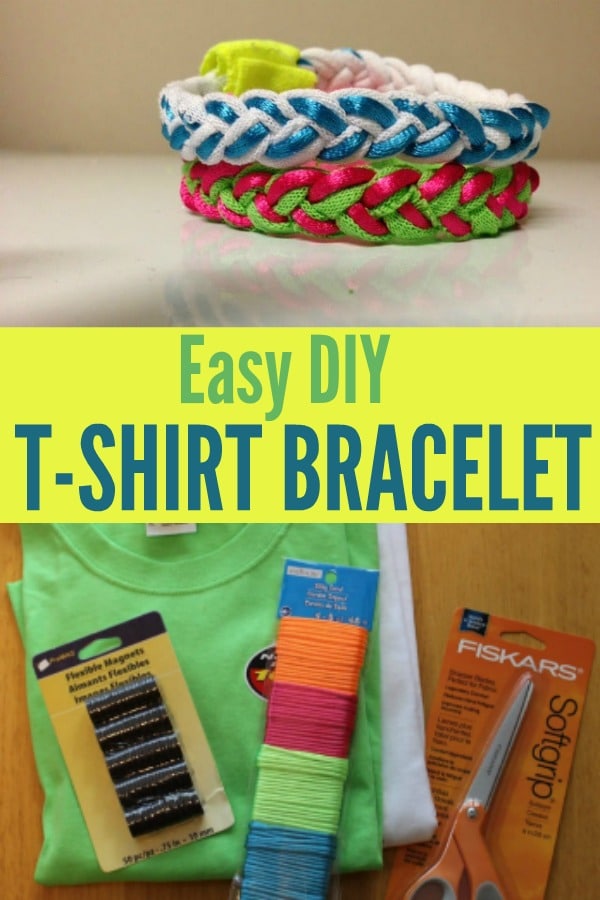 Love this craft idea? Why not check out our crafts for kids, paper tube owls, DIY Necklace Organizer or learn to do paper quilling. Or, try making this beautiful paper animal silhouette.
Happy crafting!