Today's feature blogger, is Susannah from Creative Momma On a Dime a fantastic blog that give wonderfully simple solutions to making life fantastic without spending a ton of money.  I think you'll love this Q & A as much as you'll love the blog:  Creative Momma On a Dime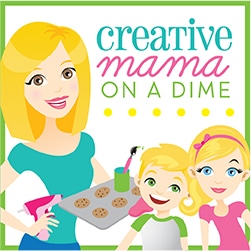 1. Why did you become a blogger?
The truth is that I had an e-commerce site and I wanted to drive more traffic to the site in hopes of turning visitors into consumers.  I quickly learned that people loved spending time on the blog but almost never delved into the rest of the site.  After about a year I broke off the blog into its own home (www.creativemamaonadime.com) and have been blogging ever since.
 2. What inspires you about blogging?
I think the part of blogging that inspires me the most is the feedback and sense of community I get with my readers.  I love hearing back from people when they connect (or even disagree) with my blog content.  My blog forces me to take things from my bucket list and get them done now which is good for someone who used to be a procrastinator.  I also love that blogging is helping me keep a digital scrapbook of my family life.
 3. What is your favorite blog post? Why?
That is tough.  I have a few in different categories.
Family posts: With Glowing Hearts (http://www.creativemamaonadime.com/2012/06/canada-day-with-glowing-hearts.html).  This is a favourite because it takes me to a magical place and really represents a big part of me.
Craft/Project post:  Relaxing Roadtrip Travel Binders (http://www.creativemamaonadime.com/2012/07/relaxing-roadtrip-travel-activity.html).  This is a favourite because I had fun making them, the kids still love using them and the response from readers was so positive.
Party post: April Showers bring May Cake & Cookie Flowers (http://www.creativemamaonadime.com/2012/05/april-showers-bring-may-cake-cookie.html). I love creating fun and inexpensive parties for the kids but I really loved this one because the kids had a blast, the loot bags were useful and it turned out better than I could have imagined.
 4. What is your favorite food/recipe?
I am a HUGE pasta lover so anything pasta is good for me.  There is a chipotle meatball recipe from William Sonoma in their Mexican cookbook that I love to make and serve over pasta.  Delicious!  I can't find the recipe online so I will have to share it with my readers soon!
 5. If you could travel anywhere in the world, where would you go?
There are too many places to name.  I am lucky because I have traveled quite a bit.  I lived in Australia for a year (3rd year of University) and in Mexico for two years (as a teacher).  I would love to go back and show my kids where I lived and visit old friends.
I would really like to do a travel/volunteer trip with my family.  I think it would be really impactful for us all to go somewhere and help build a school or hospital and really help improve a community.
Of course I'd also like to visit places like BoraBora, Italy (did I mention I love pasta?), go on safari in Africa and visit a wellness retreat somewhere like Arizona.
I asked my kids where they'd like to go and their answer was that they would LOVE to be on 'Are we there yet?' and travel the world (with me in tow) learning about new cultures.  I think they've got the travel bug.