Whether it is Adele's haunting song, or the various pieces of advertising around, it is hard not to know that Skyfall was one of last years biggest hits. Now, you can bring it home on Blu-Ray and DVD (released February 12, 2013) by Twentieth Century Fox Home Entertainment.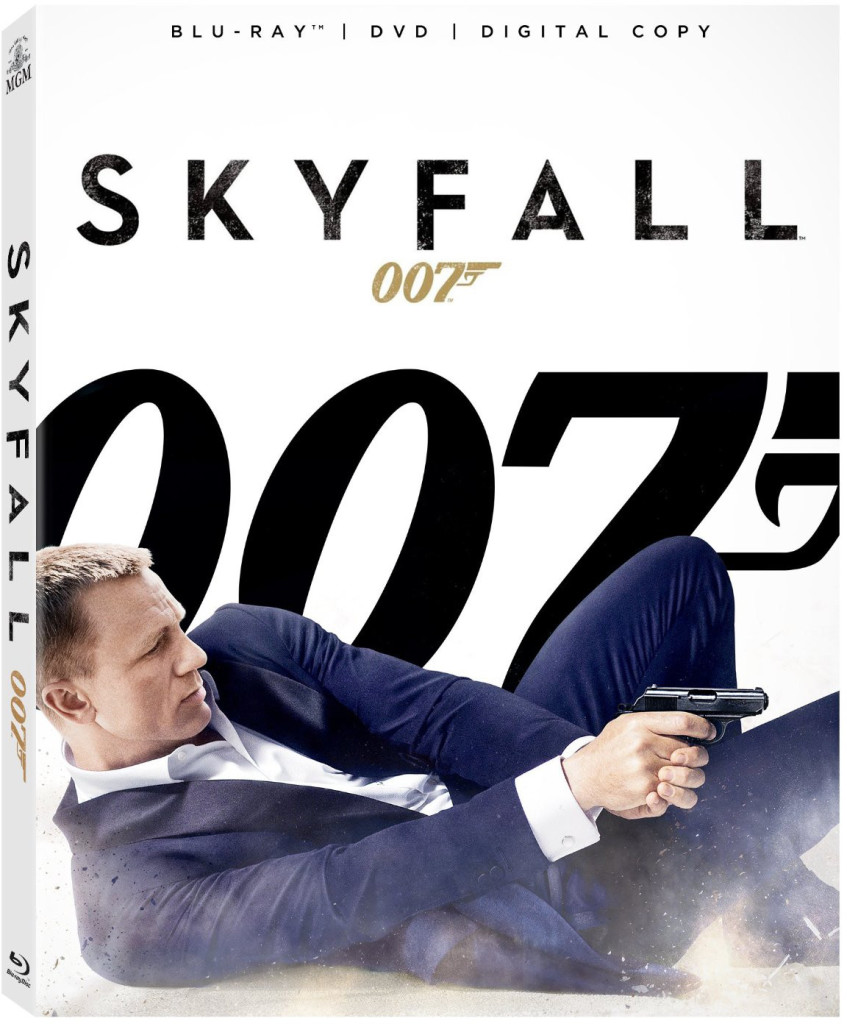 I am almost ashamed to admit that I have never seen a James Bond movie. I think perhaps I might be the only person in the universe!
So, when I was asked to watch and review Skyfall I really had no idea what it would be like. I presumed it would be an action packed movie, and I was definitely right!!
I love that Skyfall is by one of my favorite Directors, Sam Mendes who's movies American Beauty, Jarhead and Road to Perdition are two of my all time favorites.  And with eight BAFTA®  [British Academy of Film and Television Arts] nominations and five Academy Award® nominations.  I was confident this movie was not your regular action movie with minimal plot.  From the minute the film started, I was absolutely gripped by the storyline, the acting, the special effects and most of all by the humanness of the James Bond character played by Daniel Craig.  I had always heard that James Bond was all about the gadgets and inventions, in Skyfall the coolest gadget was a simple one created from a lightbulb.  Pretty low tech and yet really cool at the same time.
While Skyfall had some really interesting deaths for Bond foes, here is the Top Ten Best Bond Deaths:
10. VIEW TO A KILL – MAX ZORIN'S FALL FROM THE TOP OF THE GOLDEN GATE BRIDGE
Max Zorin (Christopher Walken) was the a bio-medical experiment that back-fired big-time. After Bond saves San Francisco from Zorin's attack the two men end up fighting on top of the Golden Gate Bridge. Zorin may be genetically superior but he proves no match for Bond (Roger Moore) and gives us a wry smile as he plummets to his ultimate demise.
9. DR. NO – DR. NO's RADIOACTIVE END
Dr. No is the first Bond villain, and his death sets the bar for those to come. In the end, Dr No's strength is his weakness. After fighting Bond, he begins to slip into a pool full of radioactive water. Bond (Sean Connery) can easily escape, but Dr. No can't climb up the ladder, thanks to his mechanical hands. He begins to slip into the pool and he eventually disappears under the water and dies. The death of Dr No sets the scene for almost every future Bond film.
8. A LICENSE TO KILL – BURNING SANCHEZ ALIVE
Bond (Timothy Dalton) goes rogue on a revenge mission to kill Sanchez (Robert Davi), a South American drug lord, who mutilates Felix Leiter and kills his wife. The film climaxes with Bond and Sanchez facing off against each other after Sanchez's trucks full of gasoline have crashed off the road. Bond kills the drug-lord by throwing a cigarette lighter at Sanchez, engulfing him in fire. The lighter gives poignancy to the moment, as it used to belong to Leiter.
7. GOLDFINGER – ODDJOB GETS ELECTROCUTED
In 1964's Goldfinger Bond (Sean Connery) came up against Auric Goldfinger and his deadly butler, Oddjob. The butler's chores included: driving Goldfinger's car, serving his dinner and, most importantly, decapitating enemies with his steel plated bowler hat. Bond manages to dodge the henchman's best attempts to kill him and ends up electrocuting Oddjob when his hat gets stuck in the metal bars inside Fort Knox.
6. LIVE AND LET DIE – BARON SAMEDI GETS THE SNAKE TREATMENT
Roger Moore's first outing as 007 put him up against Baron Samedi, the devilish henchman of Dr Katanga. Baron Samedi is thought of by many as one of Bond's most enigmatic foe and Bond has a little trouble getting rid of the self-proclaimed 'immortal' man who uses snakes to kill trespassers. When Bond's gun fails to get the job done Samedi gets a taste of his own medicine, as Bond goes for the less explosive, but infinitely more painful option of a coffin full of snakes.
5. GOLDENEYE – SQUAHING TREVELYAN WITH A SATELLITE COMPLEX
Pierce Brosnans first Bond was GoldenEye in 1995, where 007  faced Alec Trevelyan (Sean Bean), his former MI6 partner. Having seemingly come back from the dead, the ex-secret agent plans to take London back to the Stone Age with his stolen Electro-Magnetic-Pulse (EMP) warhead. As his plan nears completion Bond decides to spoil the Cuban party and Trevelyan ends up at the wrong end of a satellite navigation complex as it crashes to the ground. Ouch!
4. TOMORROW NEVER DIES – DRILLING ELLIOT CARVER
Elliot Carver (Jonathan Pryce) was the media-mogul who let power go to his head in 1997's Tomorrow Never Dies. Carver's stealth boat almost started a world war with its missiles and torpedo drill. Unfortunately for Carver, Bond (Pierce Brosnan) found another use for the torpedo drill that didn't end well for the media-baron. Safe to say there was more than this newspaper magnate's writing on the walls.
3. GODLENEYE – BORIS GETS FROZEN ALIVE
Boris Grishenko (Dominic Monaghan) is the double-crossing computer whiz-kid in Goldeneye. Boris thinks he has made the right move when he assists Alec Trevelyan in his Machiavellian plan to detonate an EMP over London, but he had not counted on Bond ruining the party. Boris thinks he has survived the explosion in the Cuban base and pumps his fists in triumph, only for the cooling tanks full of liquid Nitrogen to explode over him, killing him instantly and freezing him in the pose forever.
2. SKYFALL – UNNAMED HENCHMAN BEING EATEN ALIVE BY A KOMODO DRAGON
The best deaths are often left for the villains, but in Skyfall an unnamed henchman takes the best-death title. During Bond's mission he gets into a slight tangle and ends up one-on-one with the unfortunate henchman. Not an unusual situation for Bond to be in, except for the addition of a Komodo dragon. After a battle of fists it is the unnamed henchman who gets eaten alive by the ravenous creature, definitely one of the nastier deaths we've seen in a Bond movie.
1.   LIVE AND LET DIE – DR KATANGA EXPLODING
Dr. Katanga really lived up to his alter-ego with his demise in the Roger Moore classic, Live and Let Die. This drug baron and violent gangster was also known as Mr. Big and lived up to his alter-ego when Bond forced a gas capsule down his throat, literally blowing him up and providing  an explosive ending to fit the villains larger than life personas.
What was your favorite part of Skyfall?