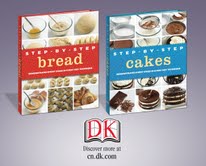 Was one of your New Year's Resolutions to try something new?  Mine was.  This week I baked bread for the first time and it turned out perfectly!
I am excited to announce that one lucky Family Food and Travel reader will win the two DK Step by Step cookbooks that I have featured this week.  I loved the bread and the cakes books so much that I am planning to buy them for my mom for Valentine's Day.
With their easy to follow recipes, beautiful photography and step by step directions you can tackle baking projects you never thought you would.
Check out my creations:
Pane al Latte (Italian Milk Bread)  
Blueberry Upside Down Cake
Now it's time for you to win your own copies.  DK Step by Step Bread and Cakes Book Giveaway: