Last weekend we had a wild snow and lightening storm. It was unlike anything I have ever seen. High winds, bright, powerful lightening, all mixed with a snowstorm.
I am not sure that I have ever been so thankful for my nice warm, safe home.
My husband snored his way through it, my boys slept peacefully, but I was captivated by this amazing natural event.
In the morning, after breakfast I thought I would get to work blogging. But, no internet access.
Puzzled I checked the router, the cables and still nothing.
Luckily I had internet on my phone so I checked my internet providers website to find a picture of a burnt, wreck of a building and a notice that their headquarters and their communication towers were struck by lightening in the night and EVERYTHING has been destroyed.
The announcement apologized but said that this catastrophic event would leave people in my area with no home phone, no cable TV and no internet for an undetermined amount of time.
This was my face: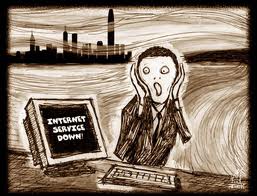 In talking with a lot of my friends, many people were talking about switching internet providers, getting satellite TV and basically abandoning this company that was hit by a freak storm. I decided not to do that. I really appreciate my internet provider. I chose a small, local company that employs local people, has an excellent product and fantastic customer service. I felt horrible for the company, its owners and its employees.
Now, just four days later, the company has announced that they have put up a temporary structure, received most of the parts it needs to restore service and it is working around the clock (literarlly 24 hours a day) to get services restored. Hopefully by Monday.
While I have missed having home internet (a lot) I am really happy with my choice to stay with a company that cares about my community.
What would you do if you lost your internet service for an extended period of time?