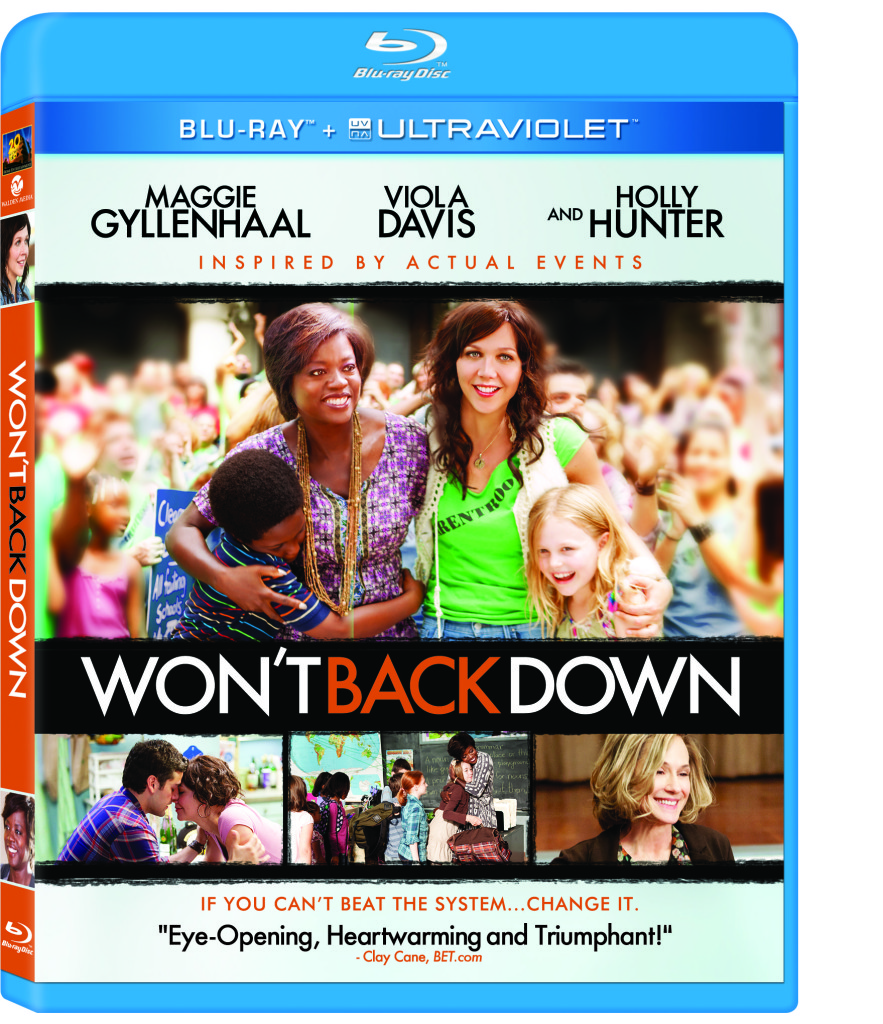 It was a snowy, blustery and cold weekend here.  The perfect time to curl up and watch a movie.  Luckily I had just received a copy of Won't Back Down from 20th Century Fox.
Won't Back Down Movie Review:
The film starts off with a heartbreaking scene of Malia struggling to decipher the word "story" on a blackboard in a classroom where neither the children, nor the teacher pay any attention to her challenges.  As a mother, the scene is so hard to watch, as an educator it is infuriating.
At the beginning of the movie I found Maggie Gyllenhal's character, Jamie Fitzpatrick annoyingly eccentric, but, as the movie progressed I grew to love and admire her strength and concern for her daughter's education.  As a single mom working two jobs and trying to change a school system I grew connected to her fight and swept up in the emotion of it all.  There were more than a few moments where I found myself holding my breath anticipating what would happen next.
With other fantastic actresses, Holly Hunter and Viola Davis, Won't Back Down had a great cast with a compelling story.  My husband and I were glued to the TV and I must admit, I was misty eyed through the last quarter of the movie.
So often, big budget movies showcase the bad, violent and dysfunctional parts of society but this film did the opposite.  It showed strong female characters who were not perfect by any definition.  The scene where Viola Davis's character, Nona Alberts admits her darkest secret to her son will have you reaching for the Kleenex box.
The film is based loosely on the Parent Trigger Law enacted in California in 2010 allows parents (50% of the school's parent population) to demand change for their poorly performing school.  I had never heard of this law or the movement of schools taking a stand to demand better education for their children.  After watching the film I was compelled to research the topic and learn more.
Education is a powerful issue and this film will bring out the Mama Bear in all of you.
I really enjoyed Won't Back Down and even though there were some moments that were a bit over dramatized, I would absolutely recommend it.  The message is powerful and the acting is well done.
Won't Back Down is now available on Blu-Ray and DVD.
Won't Back Down Official Trailer
The power of education as related to this film is displayed in this cool infographic from 20th Century Fox.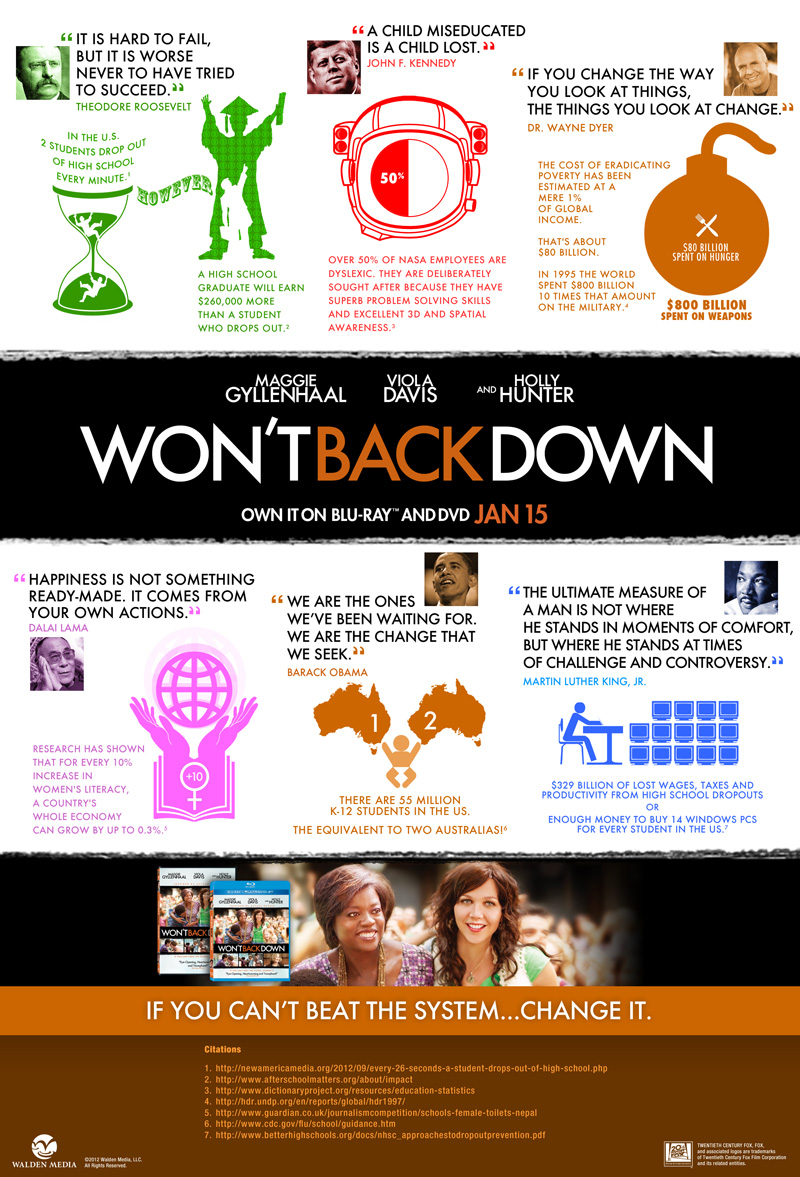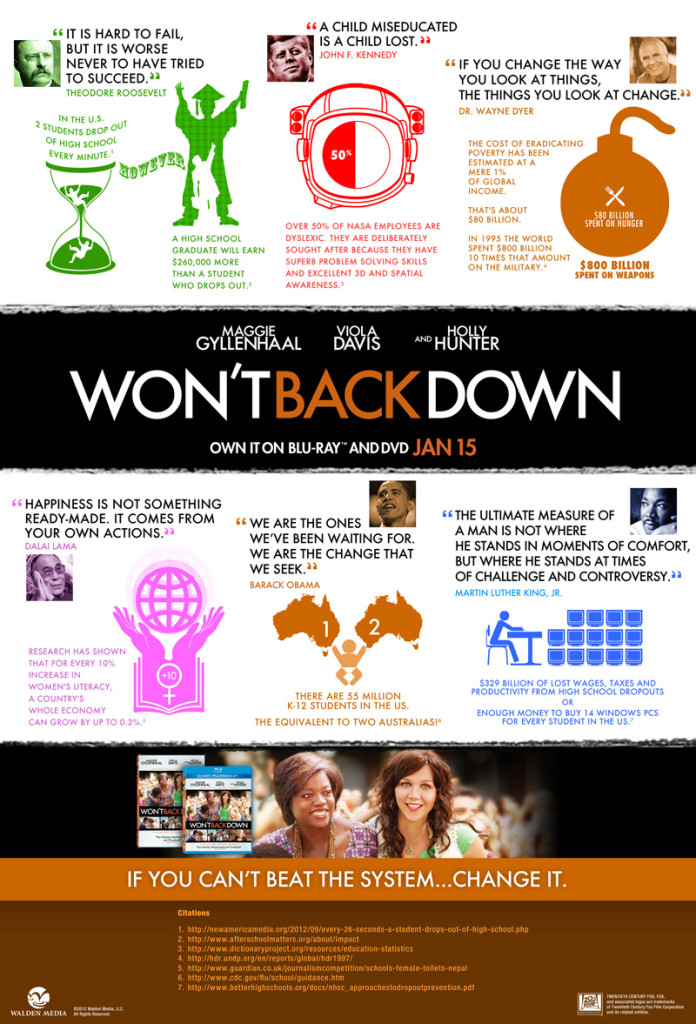 Have you seen Won't Back Down?  What did you think?