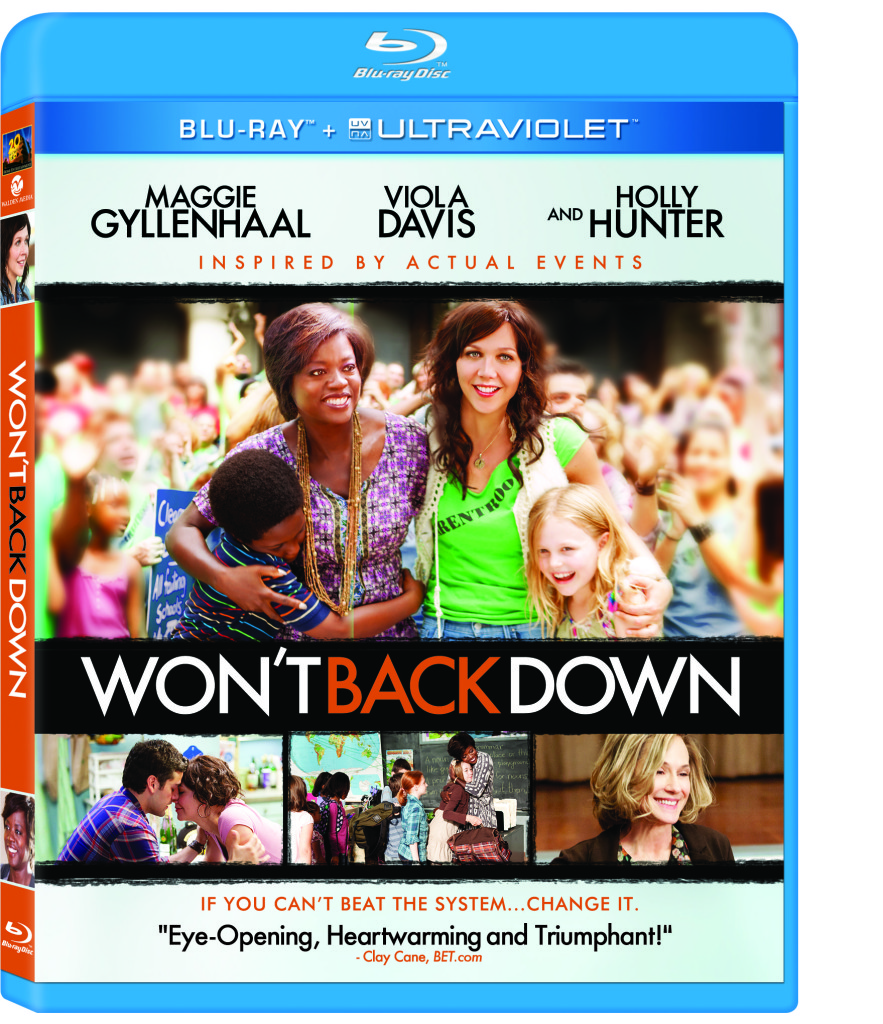 Led by a bartender and a teacher, Won't Back Down details the journey of two women to fight a system that is failing their school.  Their efforts will make a difference in the lives of their children.  Won't Back Down is available on Blu-Ray and DVD on January 15th.
One lucky Family Food and Travel reader will win a copy of Won't Back Down on Blu-Ray
In honour of this story and its remarkable teacher, 20th Century Fox is honoring 10 remarkable teaches in film.
Reading through this list I was delighted that I have seen all of these films, but that I could remember these wonderful teachers so vividly.
Won't Back Down Celebrates – Top 10 Influential Teachers in Film
Roberta Guaspari in Music of the Heart
Roberta Guaspari (portrayed by Meryl Streep) is a real violinist and teacher. Music of the Heart tells her story in which she takes on the task of teaching violin to group of students in Harlem. Though initially met by some resistance (from both of the students and their skeptical parents), Roberta is slowly able to make progress with the kids and the program becomes a success. However, 10 years later, the program is canceled due to budget cuts and Roberta loses her job. To fight back and keep music education going, Roberta and a group of supporters put on a concert to benefit the program and successfully reinstitute it.
 Ms. Geist in Clueless
Ms. Geist (Twink Caplan) is one of Bronson Alcott High's teaching staff in 1995's Clueless. Ms. Geist is a bit of a bleeding heart, and she tries desperately to get her stuck-up students to care about the rest of the world outside of Beverly Hills. Ms. Geist helps Cher (Alicia Silverstone) see that she can help others, and she ends up devoting her time to collecting goods for disaster relief.
Jaime Escalante in Stand and Deliver
Another real life teacher, Jaime Escalante (portrayed by Edward James Olmos) became a math teacher at a disadvantaged school in East Los Angeles. While his peers looked down on the kids at their school, Jaime believed that they could do more than the rudimentary math he had been teaching them, and began to prep his students for calculus. Ultimately, his students took the AP Calculus test and they all passed. However, their scores were called into question and they were accused of cheating. Jaime fought for his students to be able to retake the test to prove that their scores were based on hard work, not cheating. In the end, his students all pass a second time, proving that hard work and determination really does pay off.
 Dewey Finn in School of Rock
Though not technically a teacher, Dewey Finn (Jack Black) impacts his students in School of Rock. After posing as a substitute teacher at an elite prep school, Dewey learns that his new pupils are talented musicians and decides to train them to be a rock band for an upcoming competition. He teaches them to love rock, and that there is more to life than school and grades.
 Mr. Holland in Mr. Holland's Opus
Mr. Holland originally becomes a music teacher in order to spend more time with his wife, and to compose a piece of music. However, as he spend more and more time in his school with the faculty and students, he begins to have a respect for teaching and really tries to get the students involved in classic music. He used rock and roll to teach them about classical compositions. After 30 years of service to his students, Mr. Holland and his music program are cut from the school's budgets. However, his former students ban together to give him a goodbye he'll never forget: playing his orchestral piece ("Mr. Holland's Opus").
 Ms. Norbury in Mean Girls
Ms. Norbury, played by the hilarious Tina Fey, is the sympathetic math teacher in the 2004 hit Mean Girl. Not only is Ms. Norbury unintentionally hilarious, but she also ushers Cady (Lindsay Lohan) away from the catty Plastics and into the Mathletes, and leads all the female students in a giant confession and apology to one another, and beseeches them to stop the girl on girl hate.
 Anne Sullivan in The Miracle Worker
In 1962's The Miracle Worker, Anne Bancroft plays Anne Sullivan in the true story of Helen Keller.  Helen, frustrated by her inability to communicate due to being blind and deaf, was often prone to uncontrollable outbursts that her parents didn't know how to manage. They called upon the Perkins School for the Blind, who sent Anne to work with Helen at her home. Through persistence and love, Anne is able to break down Helen's walls and help her communicate.
 John Keating in Dead Poets Society
John Keating (Robin Williams) is the radical new English teacher at the uptight Welton Academy Prep School. Through his unorthodox teaching methods, like standing on desks and tearing pages out of books, Keating is able to help his students discover and explore their true passions in life, like writing and acting, instead of succumbing to the lives their parents have prescribed for them.
 Clément Mathieu in The Chorus
In The Chorus (or Les Choristes), Clément Mathieu is a new teacher at a school for boys who are ill behaved.  The headmaster at the school ruthlessly punishes his pupils, but Mathieu attempts to win his students over with kindness and humor. Mathieu also starts a choir for the boys, which helps improve their behavior and makes the school a happier place to be overall.
 Professor Dumbledore in the Harry Potter Series
Professor Dumbledore (portrayed by both Richard Harris and Michael Gambon) is an astounding wizard who basically knows everything about everything. As a mentor to the young hero, Harry Potter (Daniel Radcliffe), Dumbledore makes him learn many difficult lessons in order to prepare him for the challenges he will face, while still managing to crack a few jokes along the way.