I am passionate about local food. I am a proud owner of a CSA farm share, I love that the meat my family eats is mostly from the farms within a 50 km radius of our home and I frequent every farmer's market in the area. I am proud that I live in Ontario with such a rich diverse agricultural history. I love local food.
If you love local food, you must get a copy of Lynn Ogryzlo's new book The Ontario Table.  I was instantly enamored by it.  The cookbook is filled with beautiful pictures, amazing recipes and so many wonderful farms and food producers to visit.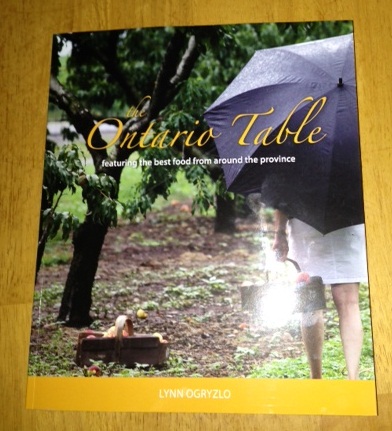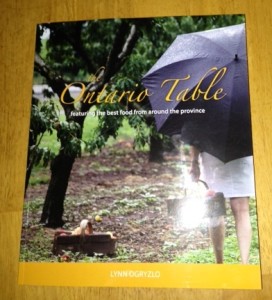 Here are some of the things I love about The Ontario Table:
It features 100 stories of growers, festivals, nature and agricultural destinations from across Ontario.
There are over 100 recipes using only Ontario produce/food
Each recipe features a VQA, Ontario or fruit wine pairing (over 70 wineries are featured)
For the food traveller there are 20 stories of culinary tourism for destinations across Ontario
Seasonal produce and year round local food options are given
The Kawartha's are an area I love to visit.  When there, I always try to find Crosswinds Farm goat cheese.  It is absolutely my favorite.  The Stinging Nettle goat cheese makes everything taste divine. If you are in the area you can even take part in their Cheese Maker for a day experience.
Lynn Ogryzlo and Farmers Feed Cities are challenging every household in Ontario to spend $10 of their weekly grocery budget on local food.  If we did this it would mean that there would be $2.4 billion influx into our economy.  That is remarkable to me.  Just $10 to choose local food.  So easy, but it makes a remarkable impact.
3 steps to buying local
1)      Research – Visit ontariofarmfresh.com for a listing of all on-farm markets in Ontario. Make a day out of it, bundle the kids up and let them experience life on the farm!
2)      Read labels – Look for the Foodland Ontario logo when making your purchases, if buying wine look for VQA to guarantee products are from our province.
3)      Practice patience – Stay committed, sometimes these options are hard to find but the majority of the food we eat has a locally sourced option.
One lucky Family Food and Travel reader will win a signed copy of The Ontario Table full of remarkable food ideas and adventures.