One of my favorite parts of the holidays are the traditions. I love to talk to people about the ones their families hold dear. Whether it be a cultural tradition or one they created themselves each and every one is important, cherished and full of memories and heartwarming stories.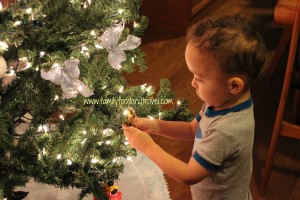 The boys are beginning to enjoy decorating the tree.  Slowly we are getting more and more kid-friendly ornaments that they can place on themselves.  They are particular fans of the metal horns on the tree which they insist on blowing into like trumpets every time they walk past it.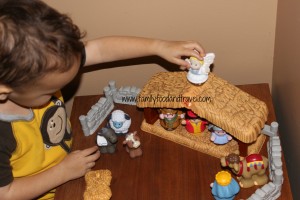 As a child I loved my family's nativity scene but since it was made of glass it was on the shelf and could not be touched.  Last year, when I saw that Little People had put out a nativity scene that the boys could play with I had to get it.  Now, it is one of their favorite parts of Christmas.  Moving the pieces around as I tell the story of Christmas. Looking forward to the day when they can help me tell the story.
As a foodie family, we love Christmas baking.  Two of this year's favorites were Glazed Citrus Cookies and Chocolate Chip Shortbread.  We make a few others but every year I love to try out new recipes hoping to one day have a collection of cookies we associate with the season.
Tonight my husband and I are heading to one of my favorite Christmas traditions, my high school friends' 20th annual "potluck."  For twenty years we have been gathering in our hometown to celebrate Christmas and  our long lasting friendship.
What are some of your favorite Christmas traditions?