I love gift cards. LOVE THEM. I think they are the perfect gift for everyone. They are small, easy to mail, convenient to carry and you get to go shopping with what I like to think of as 'someone else's money'!
If you are looking for a quick, easy way to purchase gift cards then CardSwap.ca is really the right place for you.
It's easy to understand, simple to use and you have the choice of purchasing e-codes (emailed to you within two business days) or mailed to your home quickly and efficiently.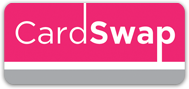 Shop:
Buy gift card to your favourite retailer on CardSwap.
Always free shipping with no hidden fees. Pay securely through INTERAC, PayPal, or credit card.
Your gift card will arrive in the mail (usually within a week).
Collect:
Easily collect points on everyday purchases.
1000 points = $10 to spend on a gift card.
Spend: Spend your points on an amazing range of gift cards or get cash back with PayPal.
After much debate (because there were so many I wanted to choose from) I chose to purchase a Bon Appetit gift card for my husband's stocking. Hoping he'll take his family out for lunch :)   Since I left this shopping a little too close to Christmas I purchased an e-code.  The perfect way to get a gift card delivered to you electronically.
Overall, I was really pleased with the site, its products and easibility.  I am looking forward to doing more shopping at CardSwap.ca
I was given a gift card in exchange for this review.  All opinions are my own.