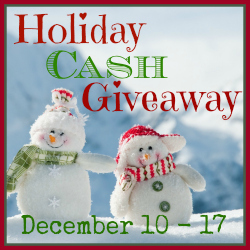 With Christmas just a few short days away who couldn't use some extra cash?
Whether it is to buy some gifts for your family, or a treat for yourself, this is a giveaway you don't want to miss.
I am thrilled to be a part of this giveaway with it's awesome hosts Tales of a Ranting Ginger and Lil Miss Piglet
http://thislilpiglet.net/wp-content/uploads/2012/11/HolidayCashButton.jpg
The price will be $125 Cash – open to residents World Wide. Cash will be paid through PayPal.
Fill out the Rafflecopter below and get ready to win!
Wishing you and your families a wonderful holiday season!