Hotel Review:  DoubleTree Syracuse, NY
Last weekend I enjoyed a road trip to Syracuse, NY for a girls shopping weekend. We chose to stay at the Doubletree Syracuse because of its location, price and reputation.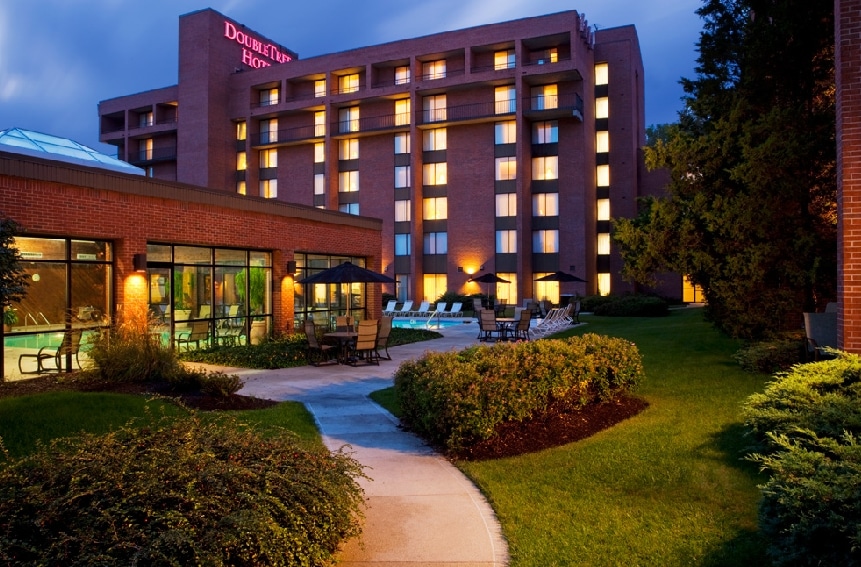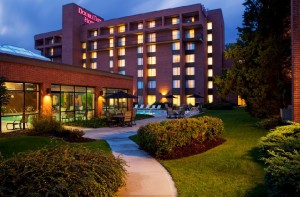 Room
We booked the double room at the hotel for an Advance Purchase rate of $123.20  per night.  The double room is perfect for a Girls Weekend away but would be a tight fit for a family.  There wasn't a lot of room around the beds which would be challenging ifyou needed to accommodate a crib or a number of suitcases.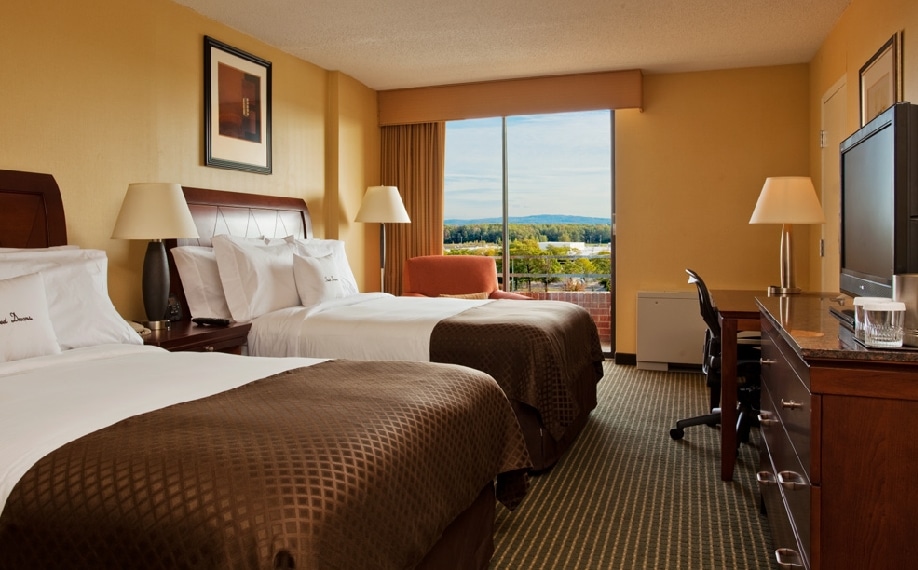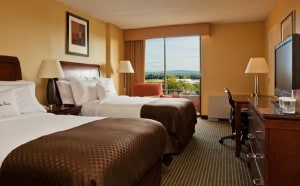 While touring the hotel I had the opportunity to see their Deluxe King room which is ideal for a family travelling with small children.  I could imagine my boys in their cribs with lots of room to roam.  Unfortunately if you are looking for two beds your only option is the double room.
Pack n' Plays Available
If you are travelling with small children, the DoubleTree has pack n' plays available for use as in-room cribs.  There are three on site, so if you are like us and are travelling with multiples you might want to bring your own.
Internet and the Smoking Area
A couple of negatives at the DoubleTree Syracuse.  Internet is not included in the price of your room so you will be charged $9.95 for 24 hours.  However, internet is free in their Business Center and in the hotel's public areas.  The most significant negative for me was the location of the smoking area of the hotel.  It is placed right outside the front doors.  Benches and extinguishable ashtrays are provided, it it means that every time you arrive at the hotel you need to walk through the smoking area to enter.  On Saturday night, with a wedding at the hotel, there were more than 15 smokers outside that we had to wade through.  While this is a minor annoyance when travelling with a friend, I would be really unhappy if I was travelling with my family.  I think with a hotel as big as the DoubleTree the smoking area could be moved to a more discreet location.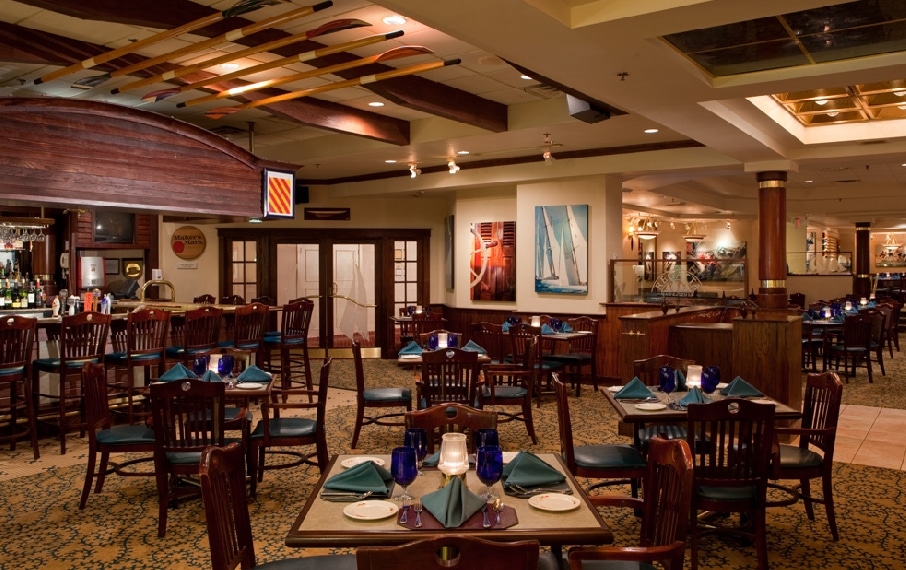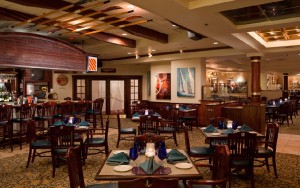 Hotel Breakfast
We were lucky enough to have breakfast both Saturday and Sunday at the hotel.  The breakfast buffet is very good, has the BEST homemade granola I have ever eaten and David, the cook is not only charming but makes a pretty fantastic omelet.   The breakfast is a good value for an all-you-can-eat at $14.95 and is family friendly.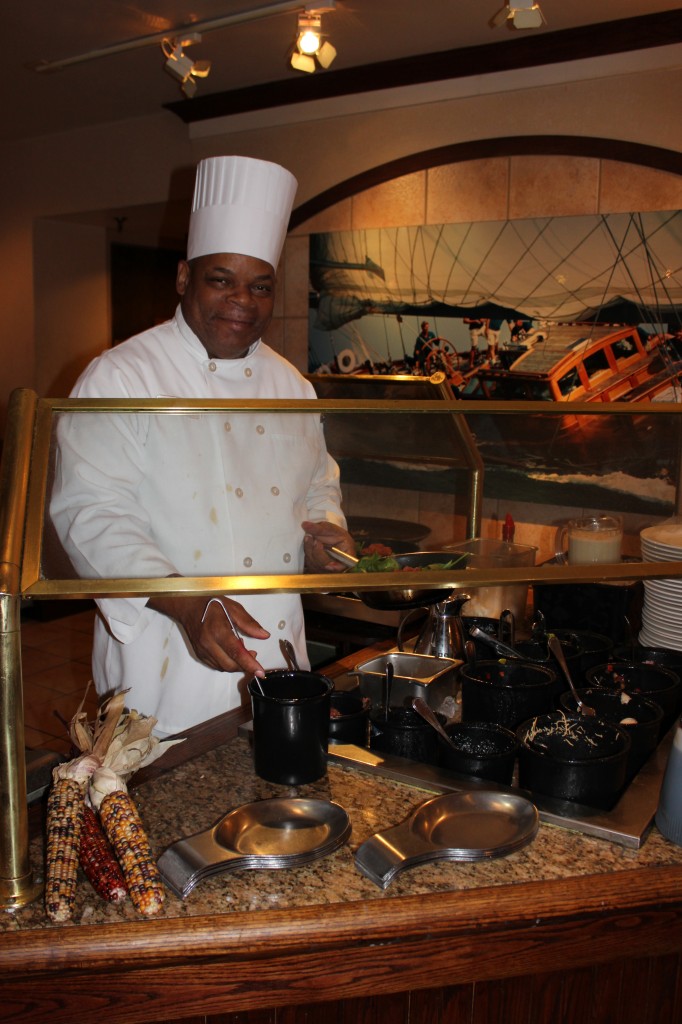 Other Amenities
Unfortunately, we were so busy shopping that we didn't have the opportunity to enjoy the other amenities of the hotel.  The pool and fitness center are really worth exploring.  Make sure you pack your bathing suits!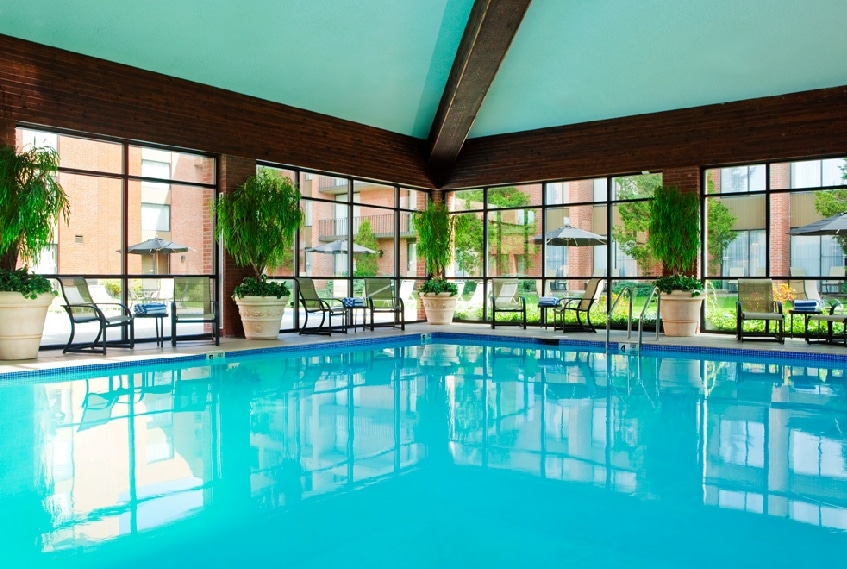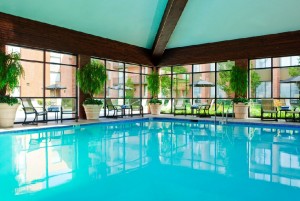 My friend and I had a positive experience at the DoubleTree.  It has a great location, delicious food (still thinking about that granola) and comfy clean rooms.  It was a perfect hotel for a girls shopping weekend.  And, if you haven't tried a DoubleTree cookie, it is the best part of checking in!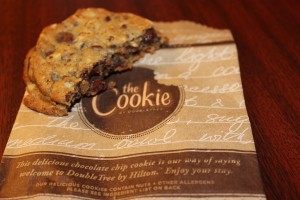 *This review is based on my opinions and experience.   The photos (except for the cookie and the Omelette bar are courtesy of the DoubleTree Syracuse)