Inspired by the ease of the Cheddar Biscuits I made a few weeks ago, I decided to take that recipe and mold into something entirely different – fruit scones.
Scones are a favorite at our house and while I love the Cheddar ones as well, for breakfast there is nothing better than a fruit scone, a cup of coffee and a newspaper.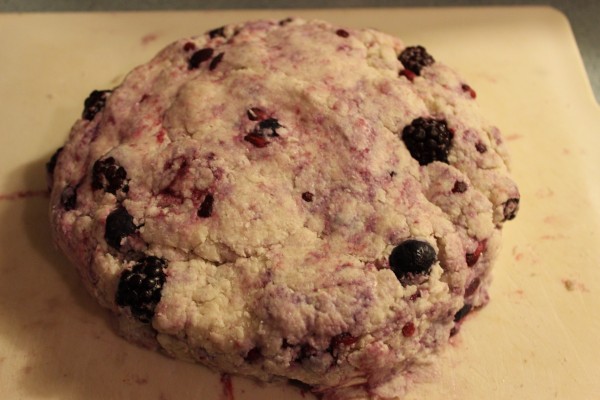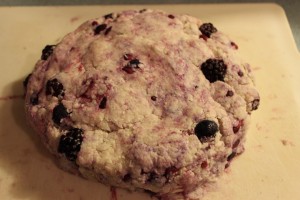 Here is what I created:
Fruit Scone
2 cups flour
1 tbsp baking powder
1/2 tsp salt
1/2 cup white sugar
1 cup heavy whipping cream
3/4 cup frozen fruit (I used a mixed berry and pomegranate)
Directions
Preheat oven to 450 degrees Celsius.
In a medium bowl, whisk together flour, baking powder, salt and sugar.
Add fruit and stir.
Add cream and stir until mixture has come together.
Knead dough a few times.
Place dough on a cutting board (or round surface) and flatten.
Cut into eight wedges
Bake in oven for about 15 minutes on a parchment sheet lined baking sheet until tops are golden brown.