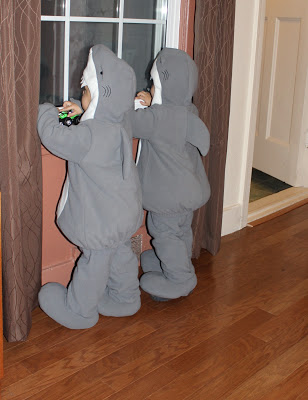 Waiting to go out and prowl around the neighborhood :)
As a mother of twins I always wonder if I should dress them the same, or in different costumes.  I dress them differently everyday, and the two previous Halloween's.  This Halloween I decided to dress them the same. Right now they are at a stage that they want whatever their brother has, so to avoid conflict I decided to purchase two the same.  And, they sure were cute!  I have bought the boys' Halloween costumes from
Old Navy 
 and would highly recommend them.  They are warm, easy to put on and washable.  Plus, the boys love them!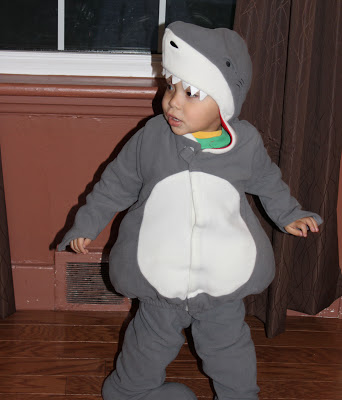 Dancing Shark
This was the first year that the boys really enjoyed it, but were scared at any house they went to where the host was dressed up.  So, we only did a few houses in our neighborhood and even though it was cold and rainy.  The boys loved every minute of it.
"Mom, can my trucks come out too?"
Wishing everyone a Happy Halloween!
Thinking of all of those areas that have postponed or cancelled Halloween due to Hurricane Sandy.