A couple of weeks ago I got the wonderful opportunity to attend a Canadian Living Advantage event for the premiere of Chef Michael Smith's new cookbook Fast Flavours.
The event was held at The Glass Factory in Toronto, a great venue restored to capture its original factory feel.  The hosts, Canadian Living Magazine, Sawmill Creek Wines, Penguin Canada and SwissMar Tools provided a wonderful evening, and a swag bag full of fun items including a signed copy of Fast Flavours.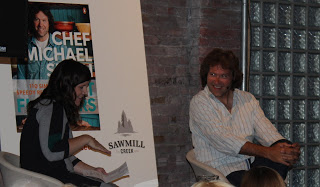 The Q & A with Chef Michael Smith was fascinating, heartwarming and insightful.  He spoke of his love for local food and his hatred for processed foods.  I really identified with his statements that  "cooking is an innate skill that people have done for hundreds of thousands of years" and "patience and persistence are as important to parenting as they are to cooking."  So very true.  Both parenting and cooking are often looked at as quick, easy and sometimes convenient things.  We try to fit food and our children into our busy lives instead of slowing down, taking time to parent, and cook good nutritious meals.  He said that we need to "eat meals with your family everyday.  If you aren't, your priorities are wrong."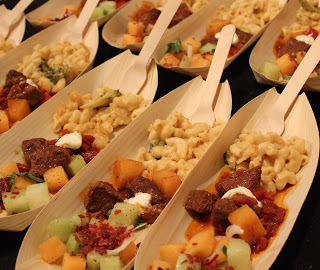 Our sample's of three dishes served in eco friendly and biodegradable bamboo
As part of the event we got the opportunity to try four recipes from his Fast Flavours cookbook.  We devoured Stovetop Mac n' Cheese with Broccoli, 4 Speed Hungarian Beef Stew and Melons & Prosciutto with Basil.  All were divine and everyone had seconds.  The meal was accompanied by a variety of
Sawmill Creek Wines
and we finished the evening with a taste of his fantastic Chocolate Mousse made quick and easy with tofu.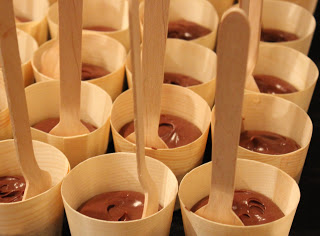 "The World's Fastest Chocolate Mousse"
Chef Michael Smith ended his talk with this ask "go back to your world and remind people around you about how simple and wonderful food is."  And, that message is so important for all of us to think about.  Whether it is cooking a meal for our family or packing nutritious lunches, we need to remember that food in its natural form is easy, quick and delicious.
I hope you had dinner with your family tonight.  I know I loved every minute of mine.