Today I had some time to myself to read some of my favorite blogs.  I noticed quite a few reflecting on their past week, their weekend and other milestones and celebrations.  It was a nice reprieve from all of the thoughts swirling in my head.
Last week was crazy.  I worked from 8am – 10pm every day (including Saturday) and didn't not get quality time with any member of my family.  I didn't eat well, I had a headache most of the week and fell into bed last night exhausted.
Today, my amazing hubby let me sleep in, did some errands and I worked away at preparing for this week.  If I thought last week was nuts, this week might be a tie.  My husband has two catering jobs at night, is a guest chef at a spa two hours away Tuesday and Wednesday, I am working all week, the boys have preschool and I need to eat well, exercise and get some sleep!
In preparation for the week ahead I did four loads of laundry today, repared shopping lists, ensured we had good healthy food in the fridge, planned for meals, planned my blog, reconciled our bank accounts, and paid our bills. I think one of the hardest parts about being a mom is juggling it all.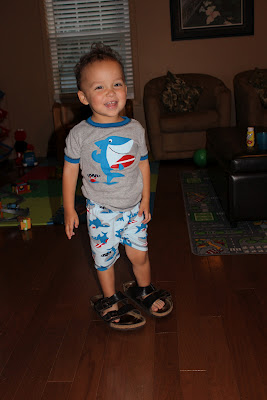 Thankfully I had time to catch a photo of Nico wearing my Birks :)
Now, if only the house would magically clean itself life would be perfect!
What do you have going on this week?