My husband and I met in Alaska, on a cruise ship.  It is a romantic story that I love to tell.  Alaska is somewhere I had always wanted to go.  If you are thinking of seeing Alaska I highly recommend a cruise, or a cruise + land tour option.
Our cruise ports were:  Seattle, Ketchikan, Juneau, Skagway and Victoria.  All beautiful ports in their own right, but combined together it was a perfect itinerary.
When you book a cruise, you have SO many options for shore excursions.  It can be overwhelming and with only a limited number of hours in each port you want to make the most of it.  Here are some of my recommendations:
Seattle Must Sees:
Pike Place Market
From seafood, to flowers, to fresh produce, to baked goods, Pike Place Market has it all.  While there get a coffee from the first Starbucks on the corner, buy some Rainer cherries from a vendor, grab some lunch and soak in all that this 105 year old market.  For more tips, check out this website.
Seattle's harbourfront showcases many of the cities gems.  From the Space Needle to the stadiums, to the magnificent view of Mount Rainer on a clear day.  The natural beauty of Seattle is so important to explore and experience.  Whether you are there to feast on its culinary delights, marvel at its architecture of take in its water, forests and mountains you are sure to find lots of options to appeal to your interests.  Grab a travel guide, visit their website or explore on your own, either way I am sure you will love your time there.  Don't forget your umbrella!
Ketchikan Highlights
Ketchikan is a small fishing town that is flooded by cruise ship passengers from late Spring through September.  It is not only a charming town, but filled with locals that take such pride in their home and secretly relish the winter months when they are free from tourists.  Their tourism website suggests otherwise, but I could see it in their eyes. There are lots of options for Ketchikan, here are a few of my favorites: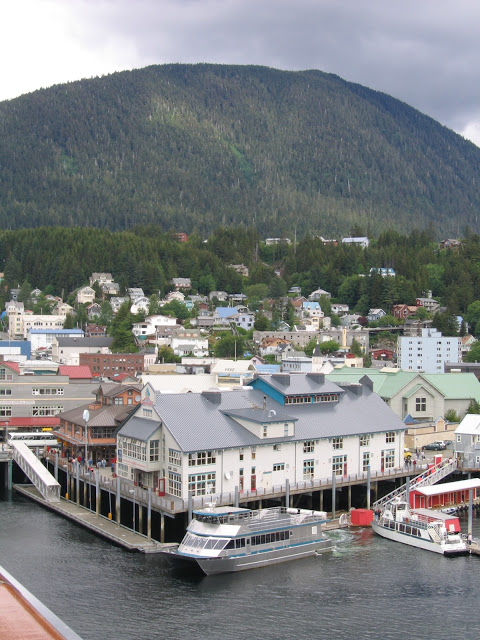 View of Ketchikan from the cruise ship.
Crab Fishing (and eating):
If you love crab, I highly recommend you go on a crab fishing excursion.  Not only do you get to see how the crabs are caught, but you get to bring in your dinner, take it back to the lodge and eat it!  I have never tasted anything so remarkable as freshly caught crab.
Saxman Native Village
Ketchikan home to the world's largest collection of totem poles, the Saxman Native Village is a wonderful opportunity to see some of these remarkable works of art, to hear about their stories and marvel at their beauty.
 Great Alaskan Lumberjack Show
Yes, ladies, they have created a show just for you!  Real, live lumberjacks performing a variety of tricks and stunts.  While I hesitated to go because I felt it would be like a show at a theme park, I was pleasantly surprised.  I laughed, I was in awe of what they were capable of doing and would highly recommend it!  For more info visit their website.
More Alaskan Cruise Ports to come…watch for the next installment (s) featuring (glaciers, Skagway, Juneau and Victoria).
Cruising Alaska? What would you love to see in these two ports?