Today, lots of fantastic things happened.  I completed my Cross Fit training course, a large digger was parked near our home, and I got a night out with a great friend to see a groundbreaking play at a spectacular outdoor theatre in small town Ontario.  It was a truly lovely day.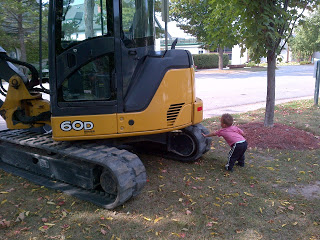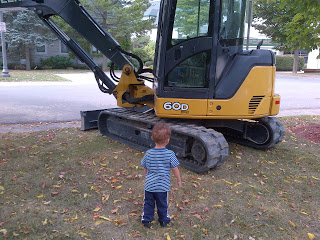 The boys were absolutely mesmerized by this digger.  They touched it, walked around it and were generally in awe of a real, live digger.  We see lots at construction sites around town, but this one was close to home, stationary and drew the boys in like a moth to a flame.  Although I didn't time how long we spent 'worshipping' said digger, I am pretty sure that it was more than 45 minutes.  A fleeting moment for the boys, eternity to me! ;)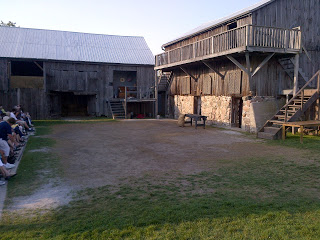 After a great afternoon outside I got to escape bedtime routines and see a play at an outdoor theatre about 45 minutes from my home.  This remarkable stage is constructed amongst two barns on a large farm property.  This theatre produces only Canadian plays and all plays are performed outside on a beautiful farm setting.   Not only was the play magnificent but the theatre, the surroundings and the chorus of morning doves and crickets made the evening purely a delight. For details about this unique theatre visit their website at 4th Line Theatre.  If you are ever in Eastern Ontario during the summer, definitely make a point of seeing a play here. I absolutely loved it.
After a busy week of work, today was a perfect day off and a wonderful way to start the holiday weekend.
What did you do that you loved today?