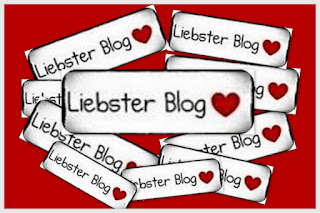 I received this award a couple of weeks ago and I haven't had time to properly thank Ashley at Read, Rate & Review for nominating me for this award.  Not only am I honoured to be chosen from all of the blogs Ashley reads, but I am thankful that I get to point people to some fantastic blogs that I love.
What is The Liebster Blog Award?
Liebster (pronounce: leeb – stir) is a German word meaning sweetest, kindest, nicest, dearest, beloved, lovely, kind, pleasant, valued, cute, endearing and welcome.

The Liebster Blog Award is given to bloggers who have less than 200 followers.
Here are the Rules:
1.) The person who's nominated must post eleven facts about themselves.
2.) Answer the eleven questions the tagger (the nominator) has given you.
3.) Choose eleven people and link them on your blog post.
4.) .Create eleven questions for the people you tagged (nominated).
5.) Tell them you've tagged them on their blog.
6.) No tag backs!
11 Facts about Me:
1.  I have a set of beautiful twin boys that amaze me everyday
2.  I have a red Standard Poodle named Jackson and an orange tabby cat named Samson
3.  My middle name is Faith, after my grandmother. 
4.  I wish I had a daughter so that I could call her Faith.
5.  I am going to my first Blogging Conference in October, Blissdom Canada!
6.  I have travelled to over 26 countries in 5 continents
7.  Baking is one of my favorite ways to relieve stress
8.  I am married to a Mexican chef and his salsa is truly the best in the whole wide world
9.  My favorite quick getaway is Toronto
10.  My favorite food is nachos with fresh salsa
11.  If I could travel anywhere in the world tomorrow it would be South Africa.  It is a place I  have always dreamed of visiting.
Eleven questions from Read, Rate & Review that I must answer:
What is your favorite blog to visit? Tell us why and post a link please :)   The first blog that I really connected to was Nicole's blog Girl in a Boy House  I really enjoy her writing, her thoughts and parenting style.  It is a wonderful blog to read.  
Do you read? If so what is your favorite book? If not is there a reason? I LOVE to read.  My favorite book is In the Skin of a Lion by Michael Ondaatje
What is your favorite sitcom? Movie? TV Channel? Favorite sitcom is Modern Family, Movie = Love Actually/Footloose/Under the Tuscan  Sun , TV Channel = CBCand Slice
What is your Pet Peeve? People who complain about everything
Why did you start blogging? I love to write and wanted a vehicle to do so.  I also wanted to connect with other bloggers and mothers of multiples.
If you could pick someone to play you in a movie about your life, who would you pick? No idea.  Honestly, no idea.
Is there any food that you can not resist? Ice Cream
What is your favorite thing to wear? You can post a picture if you want to. Lululemon yoga pants/shorts, a comfy tee and a sweatshirt (around the house), a nice dress and flats when dressing up.
What is your favorite sport? Which team? I honestly have not followed any sports since having the twins.  Used to love baseball, and the Toronto Blue Jays.  Haven't been to a game in over 3 years.
Do you have any tips or tricks you have learned since you started your blog? Share any links if you can! Be kind, be thoughtful, be true to yourself
And finally, Why should people visit your blog? I think my blog is a good balance of my personal story combined with recipes, tips, life with my twin toddlers, and travel ideas/reviews.  It has something for everyone
The Eleven Blogs I nominate:  (in no particular order)
1.  Girl in a Boy House – I love everything about this blog.  It's wit, it's honesty and how easy it is to relate to.
2.  A Day in the Life – nothing like a twin mom blog that's well written and entertaining
3.  Kissing the Frog – a beautiful blog about love and loss.
4.Actuary Mom – a great blog of a working mom of two kids.  I knew I would like her when she wrote that "to relax I go to Target"  that is my kind of woman!
5. Cynthia Hill Books – Cynthia is a fantastic writer whose first novel was one of my favorite books this year.  Check out her blog and get familiar with her writing.  You will be glad you did.
6. Dreams To Do – the tag line "Even Mom's Can Dream…can't we?"  is motivation enough to check out this blog.  It is written and has such an adorable design.
7.  Harvesting Kale – I love this blog.  The design, the writing and the fantastically clever title.  A real treat to read.
8. Klaire and Grace:  a twin mom blog – Beautiful photos, a fun family and a pregnancy currently being blogged about.
9. Nourish – One woman's journey in weight loss.  This is a brand new blog and one that I know will be so interesting to read.  If you have ever struggled with your weight bookmark this one and follow it.
10.  YYZ Bambina – A fantastic Canadian mom blog about life with a baby in Toronto.
11. Good Night Sleep Site Blog – If you are a follower of my blog you will know that I think Alanna deserves Saint status.  Her schedule and support have turned my boys into remarkable bad sleepers to fantastically wonderful sleepers.  Her blog gives advice to parents on sleep solutions.
My Eleven questions for these amazing bloggers:
1. Why did you start blogging?
2. What has kept you blogging?
3. What advice would you give to new bloggers?
4. What has been the most effective way to draw readers to your blog?
5. What is your favorite blog post? Why? (include a link to it)
6. If you could travel anywhere in the world, where would you go?
7. If you had an extra 30 minutes in your day to yourself, what would you do with it?
8. What book are you currently reading?  Would you recommend it?
9. What TV show are you most excited about returning this Fall?
10. What word would your best friend use to describe you?
11. What word would you use to describe yourself?
Hoping all of you will "Pay it Forward" and nominate your favorite 11 blogs for the Liebster Award.  :)