I took a break from my Sleep Training reports but I wanted to update you on what has been going on here since Thursday.
Most nights, the boys have slept through.  There have been a few night wakings but they are usual brief and only involve one of the boys crying (as compared to before when both boys and both parents were crying!).  Tremendous progress has been made.  My husband and I have slept in the same bed for over a week and the boys are happier than ever.
Naptime is still a bit of a struggle.  The boys are not always happy to go to bed, but fall asleep quite quickly.  They are still struggling with the later time and look like they could nod off by 11:45am.  We keep them up as long as we can but most days it is 12:30pm when they go down.  One in particular is still waking about an hour to an hour and a half into his nap.  He sometimes screams, sometimes plays quietly, but rarely sleeps again.  The other has been much better at taking the longer naps and can sleep through most of his brother's shenanigans.
While our sleep issues have not been 100% corrected, I am in awe that in less than two weeks we have tackled some of the biggest issues.
I feel more confident in the role that I need to take my boys' sleep training and feel affirmed in my decision to consult a sleep specialist and press forward with a sleep plan.  I feel our days are much more predictable and even meal times are more consistent.
Looking back I made the same mistakes lots of moms do but I am really confident that we have turned a corner into the land of good sleep. I know we have lots of hurdles ahead (toddler beds, back to school, toilet training) but instead of an insurmountable problem, sleep is just another thing we focus on in our daily routine.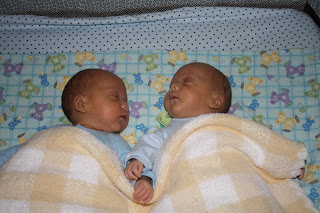 I wish they still slept like this! :)
Thank you SO much Alanna!  We couldn't have done this without you!
*Sleep consulting by Good Night Sleep Site