Today is a rainy day.  A curl up on the couch and watch romantic comedies kind of day.  Well, that would be what I would have done pre-children!  Instead I decided to do some baking to make a yummy, healthy snack for the afternoon.  I went to my go-to site for great recipes, skinnytaste.com and found this recipe for Honey Coconut Blueberry Bran Muffins
Unfortunately I didn't have honey and I didn't have blueberries.  So, I made my own version substituting agave for the honey and frozen cranberries for the blueberries.  I also added a tablespoon of chia for extra health benefits and left out the walnuts.
What I ended up making was:
Coconut and Cranberry Bran Muffins (adapted from skinnytaste.com)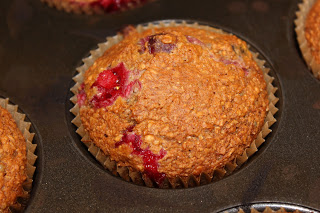 Finished product
Ingredients:
1 cup wheat bran
1-1/2 cups white whole wheat flour
1/3 cup sweetened shredded coconut
1 tsp baking powder
1 tsp baking soda
1 tbsp chia seeds
1 cup unsweetened vanilla almond milk (or skim is fine)
1/2 cup agave
1 tsp vanilla
3/4 cup unsweetened applesauce
2 tbsp coconut oil (or canola)
2 large eggs, beaten
12 oz frozen cranberries
Directions:
Preheat oven to 400°F. Linea muffin tin with 16 liners.
Combine the wheat bran, wheat flour, chia seeds baking soda and baking powder. Stir in coconut.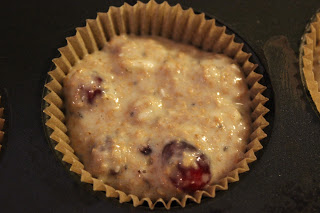 Muffins ready for the oven
In a separate bowl, blend applesauce, almond milk, honey, coconut oil, vanilla and egg. Add to dry ingredients and stir just until moistened. Fold in cranberries.
Spoon into paper-lined muffin cups and bake for 18 minutes, or until a toothpick inserted comes out clean.
Makes 16 muffins.
A note on the muffin liners I use.  I LOVE these liners.  They are unbleached and free from the nasty chemicals.  They also peel off the muffins really easy.  I purchase them at a local health food store but you can get them at Whole Foods, or other locations.  Check their website for locations.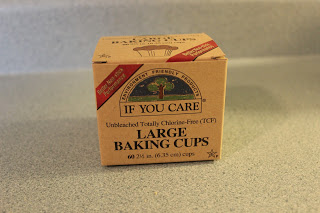 *I do not receive any benefit from telling you about this product.  I just really like it!