I am captivated by so many of the sports but I have been drawn to gymnastics since I was a little girl.  I always marveled at the power, the strength and the poise of the gymnasts.  This summer, the Canadian team is doing better than we ever have at the Olympics.  I am enjoying watching every moment that I can.
At the beginning of this summer I was looking for activities for my boys to do and found very few options for two year olds.  It seems that most programs start at three.  But, I did find Parent and Tot gymnastics and it has been a BIG hit with the boys.  To say that they love it might be an understatement.  I pretty much have to hold them back or they would push the other kids out of the way to get at the equipment.  Here are a few shots of the boys: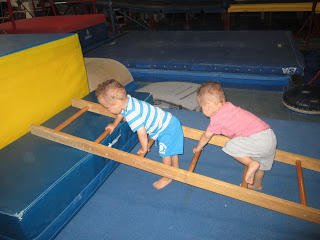 Tackling the obstacle course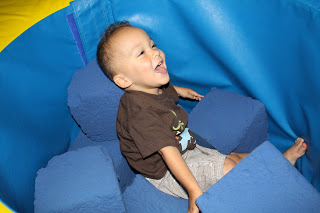 Loving the barrel of soft blocks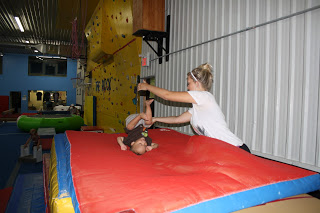 Somersault!
Champion of the Rings
Trying out the uneven bars
We also do Kindermusik with the boys to make sure we give an arts/sports balance.  Nothing makes me happier than seeing my boys enjoy an activity and expand their minds through exposure to different things.  While often toddler classes are really just organized chaos I really do think it aids in their development and their understanding of the world around them.  Looking forward to more gymnastics classes in the future.