After reading Nicole's blog post from Girl in a Boy House about what things make her summer "Summertastic" I wanted to take on her challenge to document some of my favorite summer things.
Here they are!
Place:  The Beach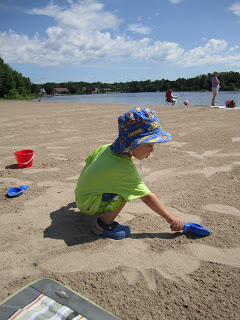 Recipe for a perfect summer day:
1. Go to the
beach
with lots of sand toys, hats, sunscreen and snacks
2. Play, play, play
3. Have snacks and water
4. Play more
5. Go home for a bath
6. Take a long nap.
Repeat as often as possible. :)
Meal:   My husband's Shrimp Cerviche
My husband is a Mexican chef (lucky me!).  Many of his creations are my favorites but nothing says summer to me more than his Shrimp Cerviche.  It is cold, refreshing, and perfect.  I requested it for my birthday dinner. I would eat it everyday if I could.  It is heaven.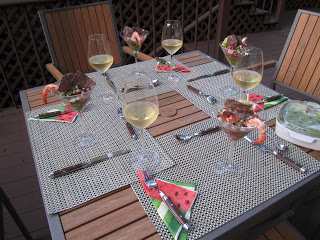 Table set with Shrimp Cerviche as the appetizers
Close up of the Shrimp yumminess
Food:  Summer Fruit and Veggies
Summer fruit and veggies are truly a gift from nature.  I am not sure if people who live in warm climates appreciate how lucky they are to get fresh fruit all year round.  For those of us with four distinct seasons, the bounty of
local veggies and fruits
are my favorite summer foods.
Rainier Cherries
While they aren't local, I have never had Rainier Cherries any other time of year except Summer.  I had my first taste of these beauties when visiting Seattle in '06.  I went to Pike Place Market and wanted to try some local produce, the farmer recommended these cherries.  Their unbelievable sweetness became an instant favorite.  Whenever I can buy them I do I just wish they were available more often in this area.
Local Blueberries and Raspberries
Local berries are truly perfect in my eyes.  On Greek yogurt, or right out of the box their flavour is unmatched by anything I have ever bought at a grocery store. Pure Ontario yumminess!
Accessory:  My Sunglasses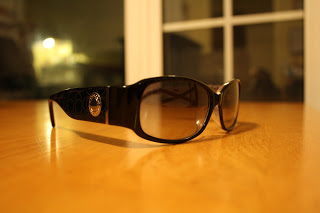 Most people wear sunglasses all year round, but me, I pretty much only wear them in the summertime.  During the other seasons I wear my glasses.  In the summer, I would much rather pop in contacts, grab my shades and be outside.  My sunglasses on the table are a sign that summer is here.  Well, and that I need to stop leaving my stuff all over the house!
Drink:  Brewed Iced Tea
While I also love a good Margarita or mojito, my everyday drink is brewed iced tea.  I found this fantastic pitcher earlier this summer made by Bodum and had to get it.  What makes this one different is that the pitcher is made of glass allowing me to put boiling hot water into the pitcher, let it cool to room temperature, then put it in the fridge.  Hot water in plastic makes me nervous and I don't think you get a good brewed tea with cold water.  I have lots of favorite loose teas from David's Tea.  But in the summer, my favorite iced ones are:  Tropicalia, Citron Oolong, and Lime Gelato.  If you haven't tried their teas, find a store, or order some online.  They are some of the best teas I have ever had. *I am in no way sponsored by David's Tea.  But I sure wish I was!*
If you feel passionate about summer list your favorite summer things on your blog and let me know.
Share the summer love.